Following the Future: Weeks 9-10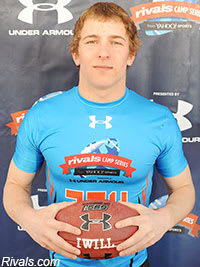 Throughout the fall, WVSports.com will take an extensive look at how the current West Virginia commits fare week to week throughout their senior football seasons. Here's how some did during their ninth and tenth weeks of the season.
The unfortunately disappointing season continues for Eastern Christian Academy as they once again lose a match-up against another national high school program. This time is was St. Edwards in Lakewood Ohio. The Honey Badgers found themselves down 28-0 before ultimately falling 35-6. West Virginia commit David Sills is still out with an ankle injury and it is uncertain if the quarterback will be able to return for any of the final three games for ECA.
Following up their loss to St. Edwards things didn't get any easier when they went up against the top rated school in New Jersey as they took on Paramus Catholic. The Honey Badgers struggles continued as they threw four first half interceptions in a 63-28 defeat.
Despite his lower star ranking on Rivals.cpm Montgomery's Chris Chugunov is proving he plays second fiddle to no one. Once again 'Chugs' lights up the scoreboard as the Cougars blow past Scotch Plains-Fanwood 55-26. Chugunov went 20-29 for 359 yards and four touchdowns. Montgomery's playmaker also scored his first rushing touchdown of the season.
The model of consistency Chugunov once again carved up defenses with a 17-30, 333 yard performance as he helped lead Montgomery to a 46-7 victory over Planfield. Chugs added two more touchdown's in the air to bring his regular season total to 22.
For the third time this season, Miramar has lead but lost that lead late to drop a game. This time it was a 27-21 loss to undefeated Flanagan. This was the first game Tyrek Cole had played since his earlier suspension and he and safety Kendrell McFadden each recorded a tackle. There were only four completed passes and receiver Kahlil Lewis has two of them for 27 yards. Running back Alex Anderson had 51 yards on five carries. Miramar will have to beat Cypress Bay to get a spot in the playoffs.
Miramar kept their playoff streak of eight years is alive with an emotional 34-14 win. Their head coach was removed due to an academic scandal which cost the Patriots the duties of West Virginia commit Jovon Durante. The team rallied together behind the play of the Patriot defense and WVU commit Kahlil Lewis who caught all four passes for 86 yards and two touchdowns (35 and 49 yards). Running back Alex Anderson had eight yards on three carries and on defense safety Kendrell McFadden had five tackles while cornerback Tyrek Cole had a big pass break-up.
Morgantown continued their latest slide with a 27-20 loss to Musselman. In a game that saw three kick returns for a touchdown by both teams, Musselman was able to capitalize on their special teams success to get a big win.
On Friday Morgantown bounced back with a 21-6 victory over John Marshall. Morgantown scored the only points of the first half with a 79 yard TD run by Maverick Wolfley. They then scored on their first possession in the second half. John Marshall scored on a 99 yard play to get the game to 14-6 but Morgantown added one more touchdown before taking home a most needed win.
Southern Durham was in a fist fight to remain undefeated but they were able to hold off Northwood 33-15. WVU offer Jordon Brown had 161 total yards and a TD. William Cameron continues to struggle to get back into the grove after his early season injury. Cameron finished the game with four carries for eight yards.
Southern finally had an easy game as they stomped Cedar Ridge 60-14. The Spartans usual suspects showed up in senior quarterback Kendall Hinton and junior running back Jordon Brown but it was West Virginia commit William Cameron who, perhaps, had the biggest game with limited amount of touches. The future Mountaineer had 89 yards on five carries and a touchdown. He then had 33 yards on three receptions and a second touchdown.
Franklin had their second straight shut-out as they blanked Kenwood 48-0. Quarterback Jacquez Adams didn't play last Friday evening and let his friends do all the work for him. WVU commit Jordan Adams hauled in four passes for 94 yards and two touchdown's.
Franklin then defeated once undefeated Milford Academy 29-8. West Virginia commit Jacquez Adams started out the scoring with a 22-yard touchdown pass to give Franklin a 6-0 lead. In the second quarter Adams gave Franklin a 12-0 lead with a nine yard touchdown run, his second score of the evening.
Miami Lakes got their second straight win and shutout with a 70-0 victory over Westland Hialeah.
Hubbard won number eight with a 48-16 victory over Howland. WVU commit Matt Jones helped lead the Hubbard team to 380 yards rushing for six TD's. On defense Jones had six tackles and a sack.
Hubbard's winning ways continued with a 41-10 victory over Northwest. The Eagles were only up 13-3 going into the third quarter but Hubbard was able to put up 28 straight points in the second half to pull away.
Union Local losing streak has been extended to three after a 35-0 loss to undefeated Shadyside.
Glades Central secured a district regular season championship with a 50-3 victory over University.
There was no let down for Glades Central after clinching a district title. They were able to take care of traditional Florida power Northwestern 17-7.
Martinsburg won their fourth straight game in blow out fashion with a 63-0 win over Hedgeville. This is the Bulldogs third straight blowout and the majority of Martinsburg starters sat out the second half of the game.
Early on Martinsburg was in a fight with Jefferson. Martinsburg went up 10-0 with a 24 yard TD run by Boyd. Jefferson came back to take a 12-10 lead in the closing moments of the first half. A quick score by Martinsburg put them up 17-12 at half-time. In the second half Martinsburg scored 34 straight points to finish with a 51-12 win. WVU commit Deamonte had an interception for a touchdown and in the third quarter punched in a one yard touchdown run.
Oviedo dropped its second straight game with a 41-7 loss to undefeated Mainland.
Friday night Oviedo held Winter Park scoreless until there was less than a minute left in the game. After a 7 yard TD pass to get the score within a point but Oviedo was able to stop the two point conversion to preserve the 7-6 victory.
Blanche Ely won their third game in five tries with a big 40-0 win over Boyd Anderson. After the win, Kevin Williams and Blanche Ely have secured a spot in the playoffs.
Blanche Ely evened up their record with a hard fought victory over Cardinal Gibbons 21-13. Blanche Ely was up 21-0 going into the fourth quarter but Cardinal Gibbons made a strong push but wasn't able to recover an onside kick with less than three minutes left in the game.
Winton Woods lost a heart breaker to Elder 28-21. Both teams were tied at 21 in the third quarter but a late TD by Elder in the 4th quarter gave them the late victory.
Winton Woods fell 29-6 to 8-1 La Salle. The Warriors had three opportunities in the first half to put points up but nine penalties in the first two quarters alone kept setting Winton Woods back and out of scoring situations.
Wayne once again destroyed their opponent with a 49-19 victory over Northmont.
Wayne remained undefeated after an easy 45-7 win over Beavercreek.
Lyman has had a difficult season so far but West Virginia commit Adam Shuler continues to dominate the line of scrimmage. Yet it wasn't enough as Lyman fell 27-3 to University.
Freeport rebounded with a big win over Burrell 50-10. With the game over by half-time WVU commit Thimons was only able to get nine tackles and a pass deflection. Still the Junior is now over 100 tackles for the season.
Freeport continues their winning ways with a 39-30 victory over Valley. The game went back and forth throughout most of the first half but eventually Freeport pulled away and held on late to take home a very important victory
Woodland Hills bounced back with a 47-0 win over Mt. Lebanon. WVU commit Jeremiah Jones had a big game that included well over 100 yards passing in the first quarter and a short yardage TD run. Woodland Hills looks to win their district title with a win against Penn Hills.
Woodland Hills dropped their second game of the season with a 22-15 loss to Penn Hills. Woodland Hills will host a playoff game next weekend.