Game Preview: Texas AM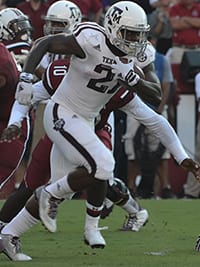 Game Preview: WVU vs. Texas A&M
Series: First Meeting
Last meeting: First Meeting
Television: 2 p.m., ESPN2, Clay Matvick (play-by-play), Anthony Becht (analysis), Dawn Davenport (sideline)
West Virginia (7-5) will look to close on a high note when the Mountaineers travel to Memphis to take on Texas A&M (7-5) in the AutoZone Liberty Bowl Monday afternoon.
It will be the first ever meeting between the two programs and the second appearance for both in the Liberty Bowl with West Virginia playing in the 1964 edition, while Texas A&M participated in the 1975 game.
The two programs have obvious ties with West Virginia head coach Dana Holgorsen serving on Aggies head coach Kevin Sumlin's staff at Houston, as well as former Mountaineers quarterback coach Jake Spavital serving as the offensive coordinator for Texas A&M.
"Offensively, the history - Coach Sumlin and I go way back. We competed against each other when I was at Texas Tech, he was at Texas A&M and Oklahoma. Obviously, I worked for him for two years at Houston so we're pretty familiar with each other," Holgorsen said.
Sumlin is in his third season atop the Texas A&M football program leading the Aggies to 27 wins during that span while being named the SEC Co-Coach of the Year during the 2012 season. Prior to his time with the Aggies, Sumlin was the head coach at Houston and led the Cougars to a 35-17 record over his four year tenure.
The Aggies are led offensively by true freshman quarterback Kyle Allen, one of the most decorated prep prospects in the class of 2014. The Arizona native inherited the starting position mid-way through the season after Kenny Hill ran into some struggles and led the Aggies to a win over No. 3 Auburn.
Allen has started four games for the Aggies and has thrown for 1,028 yards and 12 touchdowns against six interceptions showing poise and continuing to improve every week.
"He will continue to get better and better. I'm sure this last month has been very good for him," Holgorsen said.
The Aggies feature a balanced run game with three running backs eclipsing the 370-yard mark, led by Trey Williams (474 yards, 6 touchdowns) and Tra Carson (448 yards and 5 touchdowns).
The passing attack also features five wide receivers that have caught at least 30 passes with Ricky Seals-Jones (48 catches, 444 yards, 4 touchdowns), Josh Reynolds (47 catches, 762 yards, 12 touchdowns), Malcome Kennedy (46 catches, 529 yards, 4 touchdowns), Speedy Noil (44 catches, 559 yards, 5 touchdowns) and Edward Pope (30 catches, 454 yards, 4 touchdowns) representing that group.
Overall, the offense is very similar to West Virginia's with the Aggies averaging 34.4 points per game on the season and 449.2 yards per game.
Defensively, the Aggies have dealt with youth on that side of the ball and coaching turnover after coordinator Mark Snyder was fired at season's end. The Aggies play a four-man front, although there could be changes to the scheme after the coaching turnover. This season the Aggies have allowed 27 points and 449 yards per game.
"They like to do a lot of different things with the front, and they play a lot of man coverage. Probably more man coverage than we've faced this year, which would be something that we've been working hard on. I don't know what to expect with it. All we can do is prepare for the guys that are out there. They play a lot of different people," Holgorsen said.
Still, the Aggies feature several impact players on that side of the ball including true freshman pass rusher Myles Garrett, who's recorded 11 sacks on the season.
"They're going to look good, and they're going to play good. We've got our work cut out for us offensively," Holgorsen said.
Texas A&M also is sound on special teams as the Aggies feature one of the better overall units in the country led by senior kicker Josh Lambo.
"Kevin has always taken pride in the special teams. He works a lot with it. There's no weakness with their special teams. It's probably the biggest challenge, equal to or even greater than Kansas State was. They're well-coached and sound in everything they do," he said.
Kickoff is set for 2 p.m.
West Virginia Depth Chart:
OFFENSE:
QB - 9 Clint Trickett (r-Sr), 3 Skyler Howard (So)
FB (B) - 88 Cody Clay (r-Jr), 28 Elijah Wellman (r-Fr)
RB (A) - 7 Rushel Shell (r-So), 4 Wendell Smallwood (So), 13 Andrew Buie (r-Jr), 2 Dreamius Smith (Sr)
WR (X) - 5 Mario Alford (Sr), 1 Shelton Gibson (r-Fr)
WR (Z) - 11 Kevin White (r-Sr), 81 Vernon Davis (r-So)
IR (H) - 6 Daikiel Shorts (Fr), 19 KJ Myers (r-Jr)
IR (Y) - 10 Jordan Thompson (Jr), 19 KJ Myers (r-Jr)
LT - 57 Adam Pankey (r-So), 63 Michael Calicchio (r-Sr)
LG - 67 Quinton Spain (r-Sr), 69 Tony Matteo (r-So)
C - 65 Tyler Orlosky (r-So), 59 Stone Underwood (r-Jr)
RG - 64 Mark Glowinski (r-Sr), 79 Grant Lingafelter (r-Fr)
RT - 78 Marquis Lucas (r-Jr), 77 Marcell Lazard (So)
DEFENSE:
DE - 97 Noble Nwachukwu (r-So), 95 Christian Brown (r-So)
NT - 93 Kyle Rose (r-Jr), 49 Darrien Howard (So)
DE - 4 Shaq Riddick (Sr), 2 Brandon Golson (Sr), 99 Dontrill Hyman (Sr)
SPUR - 9 KJ Dillon (Jr), 3 Cullen Christian (r-Sr)
SAM - 37 Wes Tonkery (r-Sr), 31 Isaiah Bruce (r-Jr)
MIKE - 35 Nick Kwiatkoski (r-Jr), 17 Al-Rasheed Benton (r-Fr)
WILL - 20 Edward Muldrow (Jr), 36 Shaq Petteway (r-Jr)
LCB - 7 Daryl Worley (So), 14 Ricky Rumph (Jr)
FS - 6 Dravon Henry (Fr), 24 Jeremy Tyler (So)
BS - 8 Karl Joseph (Jr), 22 Jarrod Harper (r-So)
RCB - 16 Terrell Chestnut (r-Jr), 34 Ishmael Banks (r-Sr), 27 Jaylon Myers (r-Jr)
SPECIAL TEAMS:
PK - 8 Josh Lambert (r-So)
P - 91 Nick O'Toole (Jr)
KO - 48 Michael Molinari (r-Sr)
LS -87 John DePalma (Jr)
H - 48 Michael Molinari (r-Sr)
PR - 81 Vernon Davis Jr., (r-So), 7 Daryl Worley (So), 10 Jordan Thompson (Jr)
KR - 5 Mario Alford (Sr), 1 Shelton Gibson (r-Fr), 4 Wendell Smallwood (So)
Notes:
-Coaching assignments for this season include: DL Tom Bradley (field), OL Ron Crook (field), QB/OC Shannon Dawson (press box), S/ST Joe DeForest (field), WR Lonnie Galloway (field), DC/LB Tony Gibson (field), CB Brian Mitchell (press box), DL Damon Codgell (field), RB JaJuan Seider (field)
-A total of 40 players have at least one game starting experience for the Mountaineers. On the flip side, 22 players have seen action for West Virginia for the first time in 2014 including: LB Al-Rasheed Benton, LB Hodari Christian, QB William Crest, LB Cullen Christian, WR Shelton Gibson, S Malik Greaves, LB Tanner Grose, FS Dravon Henry, QB Skyler Howard, OL Marcell Lazard, DL Jon Lewis, OL Grant Lingafelter, OL Tony Matteo, LS Nick Meadows, LB Edward Muldrow, CB Jaylon Myers, LB Xavier Preston, DL Shaq Riddick, RB Rushel Shell, OL Stone Underwood, TE Elijah Wellman and LB Dayron Wilson.
-Nine Mountaineers earned their first start during the 2014 season: DL Christian Brown, S Cullen Christian, FS Dravon Henry, QB Skyler Howard, OL Tony Matteo, WILL Edward Mudldrow, DE Noble Nwachukwu, DE Shaq Riddick and RB Rushel Shell.
-Three true freshmen have seen action this season with QB William Crest, FS Dravon Henry and LB Xavier Preston getting snaps. Ten redshirt freshmen in LB Al-Rasheed Benton, LB Hodari Christian, WR Shelton Gibson, S Malik Greaves, OL Marcell Lazard, DL Jon Lewis, OL Grant Lingafelter, LS Nick Meadows K Mike Molina and TE Elijah Wellman also have seen action.
-The Mountaineers have won 108 of its last 154 regular season games and is No. 14 all-time in college football winning percentage.
-West Virginia will be participating in its 33rd bowl appearance with a 14-18 record. This will be the third bowl appearance for West Virginia under head coach Dana Holgorsen with the Mountaineers winning the Orange Bowl and losing in the Pinstripe Bowl.
-West Virginia is 11-16 in Big 12 Conference Games.
-West Virginia ranks 12th nationally with 316 first downs, converting on 92 third downs, also fifth in the country. Out of those first downs, 119 have came via the run and 164 by the pass.
-The West Virginia offense has set school records in number of plays ran this season with Maryland (108), Towson (96) and Texas Tech (94) ranking as the top three on the list. West Virginia has ran a total of 1,020 plays, averaging 85 per game.
-West Virginia's defense is averaging 4.8 three-and-outs per game, ranking 15th nationally in that category.
-The Mountaineers rank 10th nationally holding opponents to a combined 59-191 (30.9 percent) on third down conversions.
-West Virginia hasn't allowed a second-half passing touchdown this season.
Injuries: Senior quarterback Clint Trickett has been ruled out. Safety Cullen Christian and defensive lineman Brandon Jackson has been ruled academically ineligible. Redshirt junior linebacker Shaquille Petteway is suspended for the first half after being ejected for targeting in the season finale. Freshman quarterback William Crest is out for the season with an injured shoulder and will redshirt. Senior linebacker Jared Barber has been ruled out of the contest and is redshirting as he recovers from a knee injury.
Redshirts: All of the freshmen in the 2014 recruiting class are set to redshirt at this point outside of free safety Dravon Henry and linebacker Xavier Preston. Junior college offensive tackle Sylvester Townes also will receive a redshirt this fall along with sophomore linebacker Marvin Gross. Senior quarterback Paul Millard also is in line to receive a redshirt.
Points to click:
*Score six, not three. In a game that is expected to be a shootout, West Virginia will need to capitalize offensively in the redzone and score touchdowns instead of sending Josh Lambert out onto the field. Texas A&M has shown the ability to score points in bunches and the Mountaineers will need to make the most of when they have the football.
*Familiar, but be ready for anything. The ties between the two programs are obvious with the connections between Dana Holgorsen and Kevin Sumlin, along with former West Virginia assistant Jake Spavital serving as the offensive coordinator for the Aggies. Still, even with all the familiarity between the two programs West Virginia has to be ready for anything in a game where the coach that surprises the other the most could have the upper hand.
*Continue the offensive roll. Texas A&M has struggled defensively this season and the West Virginia offense has been on the plus side in most of their matchups. That will need to continue in the bowl game, as the Mountaineers should be able to move the football on the Aggies and get some points.
*Pressure Allen. Texas A&M will roll out the very talented but young Kyle Allen, and while the true freshman has impressed this season the Mountaineers defense will need to make things difficult on him by getting pressure and forcing him into making mistakes. A few mistakes could go a long way in a game like this and the West Virginia defense will be tested to do just that.
*Nothing cheap. Make Texas A&M earn their scores instead of allowing anything down the field or big plays in the run game. The Aggies have a collection of big physical skill position players and the West Virginia cornerbacks will be tested to ensure that the Mountaineers keep Texas A&M from impacting the game with big plays.
*Continue to win third down. West Virginia has been one of the nation's best teams on third down offensively and defensively and that will be important to continue in this game. West Virginia has been able to get off the field on third down on defense, while ranking as one of the top programs in the country in converting on offense. That formula leads to success and that should be no different in this instance.
*Turnovers. It goes without saying that West Virginia will need to attempt to win the turnover battle in this game and especially avoid any mistakes that will make things more difficult on themselves.
*Special teams. While the Mountaineers have been very solid in some areas, others continue to be a problem. Vernon Davis looked to solve some of the woes at punt returner and West Virginia will have to avoid making big mistakes in this area.
*****