Game Preview: Texas Tech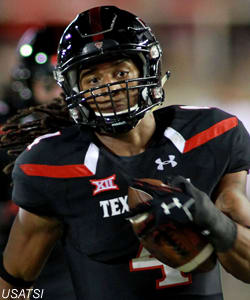 Game Preview: WVU vs. Texas Tech
Series: TTU 2-1
Last meeting: 2013: WVU 27 Texas Tech 37
Television: noon, Fox Sports 1, Joe Davis (play-by-play), Joey Harrington (analysis), Kris Budden (sideline)
West Virginia (3-2, 1-1) will hit the road to face an opponent in Texas Tech (2-3, 0-2) that has plenty of ties to head coach Dana Holgorsen.
Holgorsen coached at Texas Tech from 2000-07 serving as the inside wide receivers coach before being elevated to co-offensive coordinator. The head coach also gave Red Raiders head coach Kliff Kingsbury his first coaching opportunity when he moved to Houston, where the two actually were roommates.
"The first thing that comes to mind is that when I think Texas Tech, I've got a history with Texas Tech as everybody knows. I've been out there a bunch," Holgorsen said.
In his first season as a college head coach, Kingsbury led Texas Tech to a 8-5 record in 2013 and has amassed a 2-3 record at this point of his sophomore campaign. The former Red Raiders quarterback previously worked at both Houston and Texas A&M as an offensive coordinator before getting the opportunity to return to Lubbock as the head coach.
"Kliff was a coach's kid at quarterback and a student of the game. He was around it his whole life. His dad was a coach. He would come in and want to watch a ton of film and knew how to be a leader in the locker room - knew how to be a leader in the huddle. He was extremely competitive," Holgorsen said of his one-time pupil.
This season the Red Raiders are led by sophomore quarterback Davis Webb who has thrown for 1,603 yards along with 16 touchdowns and 10 interceptions through five games this season. Over his career Webb has made 11-career starts, with the signal caller throwing for over 300-yards in eight of those contests. Webb engineered the Red Raiders 37-27 victory over West Virginia a year ago throwing for 462-yards and a pair of scores.
"Davis Webb is still the Davis Webb that he was last year when he came out here and beat us in the second half," Holgorsen said.
As for the rest of the Red Raiders offense, Jakeem Grant (39 catches, 473 yards and 4 touchdowns) along with Brad Marquez (30 receptions, 382 yards and 6 touchdowns) are the primary targets for Webb through the air with both showing the ability to consistently make plays out of inside wide receiver position.
On the ground, the Red Raiders have made a contentious effort to run the football more and DeAndre Washington has ran for 326 yards over the first five games, an average of 5.4 per tote. Overall, the makeup of the Red Raiders offense is different from the one that West Virginia saw a season ago but still is a very dangerous club offensively.
"DeAndre Washington is a good back - as good a back as we will see. He's quick and shifty - has been productive. I would anticipate that they will continue to do things with him," Holgorsen said.
Overall the Red Raiders average just under 30 points per game while rolling up 470 yards of total offense. Comparatively speaking West Virginia has scored 36.6 points and averaged 552 yards of total offense through the seasons first five games.
Defensively the Texas Tech is currently working under Mike Smith who was promoted into the position earlier this season. Overall the group is relatively inexperienced compared to the senior-laden group that was in Morgantown a season ago but they continue to improve weekly. Holgorsen believes that the unit has played with a lot more effort and energy since Smith has been promoted.
"Nine of the guys who played against us last year are not there. They replaced them with some very talented true freshman, and a bunch of junior college guys who are starting to get their feet underneath them," he said.
That group has given up right at 40 points per game while allowing a total of 472 total yards through the first five games of the season.
This will be the third meeting between the two programs with Holgorsen serving as the head coach with West Virginia losing the prior two. It will be the second time that Holgorsen has squared off with Kingbury after falling 37-27 a season ago after leading 27-16 in the third quarter.
While under a different regime with Tommy Tuberville as the head coach, in 2012 West Virginia was ranked as the No. 4 team in the country but were dominated from start to finish falling 49-14. The Red Raiders were led by senior quarterback Seth Doege how threw for 499 yards and six touchdown passes.
However this season while the two teams are markedly different West Virginia will look to erase the ghosts of two years ago when the Mountaineers proceeded to tailspin following the Texas Tech match up.
"We're going to treat each and every road game the same. We've won some Big 12 road football games. We know how to travel. It's not going to be any different than some of the ones that we've won," Holgorsen said.
Kickoff is set for noon Saturday.
West Virginia Depth Chart:
OFFENSE:
QB - 9 Clint Trickett (r-Sr), 3 Skyler Howard (So), 16 William Crest (Fr), 14 Paul Millard (Sr)
FB (B) - 88 Cody Clay (r-Jr), 28 Elijah Wellman (r-Fr)
RB (A) - 7 Rushel Shell (r-So), 4 Wendell Smallwood (So), 13 Andrew Buie (r-Jr), 2 Dreamius Smith (Sr)
WR (X) - 5 Mario Alford (Sr), 1 Shelton Gibson (r-Fr)
WR (Z) - 11 Kevin White (r-Sr), 81 Vernon Davis (r-So)
IR (H) - 6 Daikiel Shorts (Fr), 19 KJ Myers (r-Jr)
IR (Y) - 10 Jordan Thompson (Jr), 15 Logan Moore (r-Sr)
LT - 57 Adam Pankey (r-So), 63 Michael Calicchio (r-Sr)
LG - 67 Quinton Spain (r-Sr), 79 Grant Lingafelter (r-Fr)
C - 65 Tyler Orlosky (r-So), 69 Tony Matteo (r-So)
RG - 64 Mark Glowinski (r-Sr), 59 Stone Underwood (r-Jr)
RT - 78 Marquis Lucas (r-Jr), 77 Marcell Lazard (So)
DEFENSE:
DE - 97 Noble Nwachukwu (r-So), 45 Eric Kinsey (Jr)
NT - 93 Kyle Rose (r-Jr), 95 Christian Brown (r-So)
DE - 4 Shaq Riddick (Sr), 92 Jon Lewis (r-Fr)
SPUR - 9 KJ Dillon (Jr), 3 Cullen Christian (r-Sr)
SAM - 37 Wes Tonkery (r-Sr), 31 Isaiah Bruce (r-Jr)
MIKE - 35 Nick Kwiatkoski (r-Jr), 17 Al-Rasheed Benton (r-Fr)
WILL - 20 Edward Muldrow (Jr), 2 Brandon Golson (Sr)
LCB - 34 Ishmael Banks (r-Sr), 27 Jaylon Myers (r-Jr)
FS - 6 Dravon Henry (Fr), 24 Jeremy Tyler (So)
BS - 8 Karl Joseph (Jr), 22 Jarrod Harper (r-So)
RCB - 16 Terrell Chestnut (r-Jr), 14 Ricky Rumph (Jr)
SPECIAL TEAMS:
PK - 8 Josh Lambert (r-So)
P - 91 Nick O'Toole (Jr)
KO - 48 Michael Molinari (r-Sr)
LS -87 John DePalma (Jr)
H - 48 Michael Molinari (r-Sr)
PR - 10 Jordan Thompson (Jr), 5 Mario Alford (Sr)
KR - 5 Mario Alford (Sr), 7 Rushel Shell (r-So), 4 Wendell Smallwood (So), 7 Daryl Worley (So)
Notes:
Coaching assignments for this season include: DL Tom Bradley (field), OL Ron Crook (field), QB/OC Shannon Dawson (press box), S/ST Joe DeForest (field), WR Lonnie Galloway (field), DC/LB Tony Gibson (field), CB Brian Mitchell (press box), DL Damon Codgell (field), RB JaJuan Seider (field)
A total of 39 players have at least one game starting experience for the Mountaineers. On the flip side, 20 players have seen action for West Virginia for the first time in 2014 including: LB Al-Rasheed Benton, LB Hodari Christian, QB William Crest, LB Cullen Christian, WR Shelton Gibson, S Malik Greaves, LB Tanner Grose, FS Dravon Henry, OL Marcell Lazard, DL Jon Lewis, OL Grant Lingafelter, LS Nick Meadows, LB Edward Muldrow, CB Jaylon Myers, LB Xavier Preston, DL Shaq Riddick, RB Rushel Shell, OL Stone Underwood, TE Elijah Wellman and LB Dayron Wilson.
Three Mountaineers earned their first start during the 2014 season: FS Dravon Henry, WILL Edward Mudldrow, DE Noble Nwachukwu and RB Rushel Shell.
Three true freshmen have seen action this season with QB William Crest, FS Dravon Henry and LB Xavier Preston getting snaps. Ten redshirt freshmen in LB Al-Rasheed Benton, LB Hodari Christian, WR Shelton Gibson, S Malik Greaves, OL Marcell Lazard, DL Jon Lewis, OL Grant Lingafelter, LS Nick Meadows K Mike Molina and TE Elijah Wellman also have seen action.
The Mountaineers have won 104 of its last 147 regular season games and is No. 14 all-time in college football winning percentage.
West Virginia is 7-13 in Big 12 Conference Games and 3-6 all time in conference road games.
West Virginia's defense is averaging 5.6 three-and-outs per game, ranking in the Top 15 nationally in that category.
Injuries: Starting cornerback Daryl Worley has been fully reinstated. Senior defensive end Dontrill Hyman is considered out with a knee injury. Senior linebacker Jared Barber has been ruled out of the contest and is likely to miss the remainder of the season as he recovers from knee surgery. Barber is a candidate for a redshirt.
Redshirts: All of the freshmen in the 2014 recruiting class are set to redshirt at this point outside of free safety Dravon Henry, linebacker Xavier Preston and William Crest. Junior college offensive tackle Sylvester Townes also will receive a redshirt this fall along with sophomore linebacker Marvin Gross. Defensive lineman Darrien Howard could receive a redshirt.
Points to click:
*Score early and often. West Virginia will need to put the ball into the end zone against a Texas Tech team that can score points in bunches. Last season as a true freshman Davis Webb threw for 462-yards against the Mountaineers and has shown the ability to move the Red Raiders offense this season as well. This is a game where West Virginia will need to seize momentum early and continue to pile it on over the course of the game. The Red Raiders have struggled on defense even moving to an interim coordinator, while West Virginia has played much better on the offensive side of the ball. This is a game that could easily become a track meet and West Virginia is equipped for that type of match up.
*Run the football. One area that the Texas Tech defense has struggled with is stopping the run, including giving up 438-yards on the ground in a 49-28 home loss to Arkansas. Rushel Shell is coming off his first 100-yard game of the season and it will be important for the West Virginia offense to remain balanced and take advantage of a weak spot in the Red Raiders defense, which has been susceptible to big plays.
*Keep Webb in check. Davis Webb has already thrown for 16 touchdowns through five games but on the flip side also has throw 10 interceptions. West Virginia's defense has been in position to make plays several times this season but has failed to do so. This is a game where keeping Webb in check and forcing him into mistakes could results in the Mountaineers exiting Lubbock with a victory. Webb has only been sacked twice this season, but West Virginia will need to apply pressure and make things uncomfortable for the sophomore and avoid allowing a repeat of what happened a year ago.
*Be prepared for the road. West Virginia has made one other trip this season for a true road game against Maryland and left with a victory. Now returning to the spot that set off the downward spiral in the 2012 season, the Mountaineers must be prepared to handle the environment in Lubbock and understand the magnitude of neutralizing the crowd early in order to leave west Texas with a win.
*Making them one dimensional. It's no secret that Texas Tech will throw the football this weekend, but the Red Raiders also have ran the football effectively through the season's first five games. Led by DeAndre Washington, West Virginia must prevent the Red Raiders from getting comfortable in both areas of the game and allowing them to pick their poison when it comes to attacking the defense.
*Turnovers. Both of these teams have struggled at times with taking care of the football and careless mistakes, so this could be a match up where the team that self destructs the least will be in the best position to walk away with a win. West Virginia can't continue to lose the turnover battle and expect to win, while if they are able to force the mistake-prone Red Raiders into a few it could tilt the game in the Mountaineers favor.
*Pass defense. West Virginia has matched up with very talented wide receivers at this stage of the season headlined by Amari Cooper, Sterling Sherpard and Stefon Diggs but as a team Texas Tech figures to challenge the Mountaineers vertically more than any team at this point. West Virginia's cornerbacks have played well and could receive a boost with the return of Daryl Worley but this week they must lock up and prevent a very talented group of wide receivers from making plays and causing havoc in the secondary.
*Special teams. This is an area that also has been a roller coaster for West Virginia at times this season, but in order for the Mountaineers to continue to improve this must improve starting with this weekend.
******

Click
Here
to view this Link.