Holgorsen, WVU run to earn win over TTU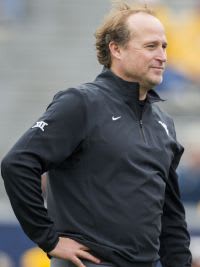 On Saturday, West Virginia and head coach Dana Holgorsen earned their first Big 12 Conference win of the season and an overall victory for the time in more than a month by beating Texas Tech, 31-26 in Morgantown.
For West Virginia their 7-0 first quarter lead over the Red Raiders also marked the first time since beating Maryland on September 26 that they had held a lead over their opponent. During the winless month of October, West Virginia dropped games to four teams all within the top fifteen of the College Football Playoff rankings.
"I'm just really happy for our guys. It's been a long month and a half, so just to get the victory is obviously pretty good," Holgorsen said in his postgame press conference after winning.
Unlike the way West Virginia has won under Holgorsen since his tenure began in 2011, the Mountaineers earned a victory by running the football instead of throwing it.
West Virginia quarterback Skyler Howard completed only twelve passes for 149 yards without a throwing a touchdown while running backs Wendell Smallwood and Rushell Shell each eclipsed 100 yards rushing.
Smallwood ran for a career-high 163 yards and a touchdown and Shell carried 14 times for 111 yards and two scores.
"It's a far cry from what my background is and what the offense looked like when I first got here, but it's the personnel that we have," Holgorsen said. "It looked good and we got first downs. That's what the point is."
With only 35 seconds remaining in the first half, Texas Tech tied the game at 14, creating a critical crossroads for Holgorsen. The Red Raiders were due to receive the opening kickoff of the second half, therefore, they would have been in position to take a lead to begin the third quarter, had West Virginia run out the clock before halftime.
After return man Jovon Durante got the ball on a 26-yard return to West Virginia's own 37-yard line, Holgorsen had to decide whether play it safe and run out the clock or be aggressive to try to add points in the final seconds of the second quarter.
"We got a good return and I thought about what happened last week and didn't want to put our team in that situation. If we would have been backed up I probably would have been more conservative," Holgorsen said. "We got two explosive run plays, which put us in the position to score."
Last week while trailing TCU 20-10 in the final minute of the first half, Holgorsen tried to run the clock out, but the Horned Frogs defended well and ended up getting the ball back with 21 seconds to play. It turned into three points and a 13-point lead instead of a 10-point lead at the half.
This week, Holgorsen used his run game to be aggressive and it worked out for him. Shell had runs of 10 and 14 yards to put West Virginia inside Texas Tech territory before kicker Josh Lambert converted a field goal as the half expired. West Virginia took a 3-point lead into the locker room instead of going into the break tied at 14.
"It was a big three points," Holgorsen said.
In the second half, Holgorsen continued to ride Smallwood and Shell to victory. Holgorsen's offense had 32 running plays compared to just eight pass attempts in the final 30 minutes of action.
West Virginia (4-4, 1-4) is now an even .500 on the year. The Mountaineers will conclude their two-game home stand next week against Texas.