Holgorsens Take: 8/11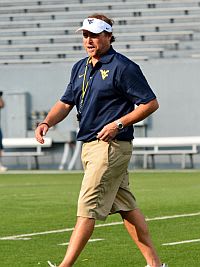 After eleven practices, West Virginia Head Coach Dana Holgorsen has a better understanding of his personnel moving into the final days of fall camp.
WVU has more experience and versatility on its roster than it has had in its first few seasons a Big 12 league member. Because of that Holgorsen has the luxury of redshirting the majority of his new freshman.
"Right now my guest best would be to not redshirt Dravon Henry or William Crest," said Holgorsen. "But, the rest of them right now would be good redshirt candidates."
Holgorsen even said highly recruited running back Donte Thomas-Williams is likely to take a redshirt due to the amount of depth his team has at the position.
In the case of Henry he remains running with the first team defense as a safety, while the plan for Crest is still up in the air.
Crest is still in the mix to return punts, but has competition in Jordan Thompson, Vernon Davis Jr., and Mario Alford, to beat out.
"He (Crest) has great ball skills, but it will depend on his role offensively, which we still haven't figured out yet," Holgorsen said.
Thompson, Davis Jr., and Alford along with Henry, Wendell Smallwood, Daryl Worley and Shelton Gibson are competing for the two starting kickoff return spots.
Offensively, the running back and wide receiver competitions are still sorting themselves out.
Rushel Shell has turned heads in practice becoming more comfortable with the offense, but Wendell Smallwood, Andrew Buie and Dustin Garrison continue to progress in camp.
"Rushel Sell looks great. He had two or three runs where you can see why the hype was there," Holgorsen added.
Holgorsen wants to get Dreamius Smith more reps moving forward. Smith has been doing well in camp, but Holgorsen wants to see himself if Smith can carry the load.
At receiver, Thompson has essentially locked up the fourth starting receiver spot. Alford, Kevin White and Daikiel Shorts are solidified starters too.
Holgorsen is seeking backup receivers through this last week of camp.
"Logan Moore has done well at inside receiver, he'll give us depth there," Holgorsen said. "But we're looking for two more wide outs."
Right now KJ Myers, Devonte Mathis, Gibson and Davis are competing for that playing time.
"We need two out of those four guys to step up," Holgorsen said.
West Virginia continues practice this afternoon.
*****

Click
Here
to view this Link.