Holgorsens Take: 8/7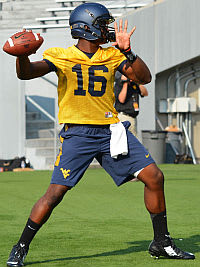 West Virginia is entering the portion of fall camp where players often hit a mental and physical wall with the daily grind of practice according to head coach Dana Holgorsen.
The goal during this stage is to find and develop those players that show mental toughness and be able to rely on those players to step in game situations. Offensively, Holgorsen said that he is comfortable with the depth chart on that side of the ball but is still in the process of looking for a sixth, seventh and eighth lineman along with backup wide receivers.
However, the defensive side is up in the air because they have more bodies and it is a constant evaluation process.
"The two deep is important. Not just the starters but the guys that can go in there and play as well," he said.
As far as personnel, Holgorsen initially laughed off the notion of William Crest returning punts even going as far as to say that he did it to mess with the media but said that the freshman quarterback did it in high school as a way to stay in shape. And after observing him doing it in practice, Holgorsen said that it looked good. The head coach did say that he wouldn't be tinkering with the idea if he was the starting quarterback but for now, he will see what happens.
"Would he be an option if he's the best one? Absolutely," Holgorsen said. "…If he's the best one, why not?"
As a quarterback, Holgorsen said that Crest is way ahead of the curve both mentally and physically but the head coach advised fans of getting too excited about him because he still has a long ways to go.
Edward Muldrow repped with the first team yesterday and while he blew some assignments the off-season did wonders for his progression on the field. Muldrow is what Holgorsen describes as fast, physical, motivated but out of control and he has to get that worked on.
Darrien Howard continues to progress but Holgorsen said that it is a shame that he had to play last year as a true freshman due to depth issues.
"He should be a redshirt freshman that's in his first camp right now," he said.
NOTES:
Josh Lambert was given the day off Wednesday to rest his leg.
The battle between Dravon Henry and Jeremy Tyler at free safety has been a good one thus far.
Holgorsen said that he would be excited to see regional opponents on the schedule in regards to the power five autonomy vote.