Holgorsens Take: Roster Updates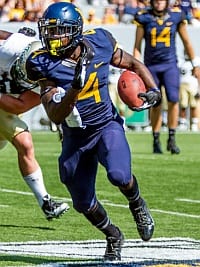 West Virginia opened fall camp Thursday and head coach Dana Holgorsen provided a comprehensive update on the current injury and roster situation as the Mountaineers prepare for the season opener against Alabama Aug. 30.
After having witness intimidation of a murder charges dropped this past week, sophomore running back Wendell Smallwood was back with the team as a full participant Thursday and Holgorsen said that he will resume the role he had exiting spring football.
"He had a great summer but was obviously not with us for a ten day period but is an integral part of what we're going to do offensively," he said.
On the injury front, redshirt freshman wide receiver Jacky Marcellus is out until January after having knee surgery and freshman offensive lineman Amanii Brown will remain out until the start of the school year as he is still recovering from a knee procedure.
Offensive lineman Russell Haughton-James also is away from the team recovering from an injury on the physically unable to perform list.
Other players that are currently injured are senior linebacker Jared Barber, who was sporting red in practice Thursday, and isn't expected to come back until around a month from now, junior SPUR KJ Dillon, who injured an ankle during the break and should be back in a week and senior WILL linebacker Brandon Golson, who is working his way back from shoulder surgery and is expected back soon.
True freshmen wide receiver Jacob McCrary and offensive lineman Dontae Angus are still awaiting word on their eligibility, while another true freshman offensive lineman Walter Rauterkus left the team and has decided to quit playing football at West Virginia.
Holgorsen said that he is still waiting on the remaining two junior college signees but did not want to comment further on the issue.
Staying on the topic of true freshmen, safety Dravon Henry is one that has been the topic of conversation this summer with his play and Holgorsen said that he will remain in the mix at the free safety position because of his size, speed and ability to pick up things quickly.
"He's ahead of the curve for a true freshman that's for sure," Holgorsen said.
William Crest is another freshman that received comments from Holgorsen, as the head coach said that he physically looks different from any of the other quarterbacks on the roster but at the time his head is still spinning as he adjusts to the college game. The Baltimore product will continue to receive reps throughout camp.
******

Click
Here
to view this Link.