No. 21 WVU Looks to Stop Skid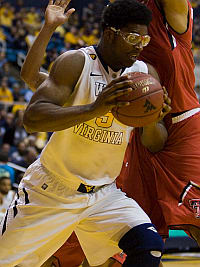 A little over a week ago, West Virginia was sitting second in the Big 12 standings and in an ideal position to make a run for the regular season league title. Since then, West Virginia has dropped two straight games in blowout fashion and now has three teams sitting above them in the standings.
Tonight, No. 21 West Virginia (18-5, 6-4) and head coach Bob Huggins will try to stop its only losing streak of the season as Kansas State (12-12, 5-6) and head coach Bruce Weber visits the Coliseum in Morgantown.
"I don't think anyone understands how hard this league is," said Huggins. "We haven't made any shots. If you don't shoot it very well, you'll struggle to win in this league."
In consecutive lopsided losses, West Virginia combined to shoot just 35-percent from the field and an even lesser 22-percent from three-point range.
West Virginia has struggled to score the ball offensively with any consistency.
The lone bright spot for West Virginia in any part of the current losing streak was the performance from Devin Williams on Saturday against Baylor. Williams registered 20 points and 15 rebounds in the game.
Huggins wants to work the ball more to Williams in the post tonight against the Wildcats.
"We haven't scored it close all year. Devin (Williams) is scoring," Huggins said.
Additionally, West Virginia wants to get back to the full court press defense they executed before the two-game skid. During the losing streak, West Virginia put together a season low in turnovers forced against Oklahoma.
The Mountaineers had one of their best nights using the pressure defense in late January against the very same Kansas State program that they will face tonight. That night in Manhattan at Bramlage Coliseum, West Virginia forced Kansas State to turn the ball over 25 times while nabbing 13 steals during a gutsy road win.
"It was a tough hard fought game with guys scrapping to make plays. A lot of shots weren't going down, so it was more of a defensive game," said West Virginia guard Jaysean Paige. "I'm expecting another physical game. We'll play up and down with a lot of pressing. It'll be another hard-fought game."
Against West Virginia, only one Kansas State player, Marcus Foster, found a way to score the basketball consistently. He had 15 points in the last meeting between West Virginia and Kansas State.
Foster and Malek Harris were suspended last week for violating team rules. Weber hasn't ruled out ending their suspensions for the matchup this evening.
"Marcus (Foster) is a good kid, Malek (Harris) is a good kid, but they made some immature decisions," said Weber. "We have to go with what we've got, but I'd anticipate them back sooner rather than later."
West Virginia is readying for Kansas State to be with their best player, Foster tonight.
"We're expecting Foster to play. He's their best player and he hits shots. He's a really tough competitor," Paige said. "Without him, that's a big loss for them, but we're looking for him to play tomorrow night."
Offensively, West Virginia will look for Williams to score inside and more reliable play from Juwan Staten.
Staten has only scored more than 15 points in a Big 12 game three times this season. Last year he scored 15 points in sixteen Big 12 conference contests.
West Virginia and Kansas State will tipoff at 7 PM this evening.