Sims Clarke Headline Pro Day; Devine Runs Well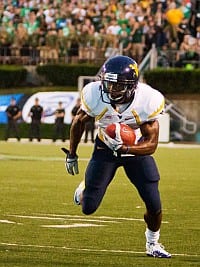 Former West Virginia running back Charles Sims and defensive end Will Clarke headlined NFL Pro Day in Morgantown on Friday.
Sims expected to be at least a third round pick. He worked out on the heels of playing in the Senior Bowl and participating in the NFL Combine. Clarke had a great week at the East-West Shrine Game, which earned him an invite to Senior Bowl to play with Sims. After that Clarke participated in the NFL Combine as well.
Neither Sims nor Clarke ran a forty-yard dash after being content with their combine times, but did go through position drills and other parts of the workout.
"Being at the combine, I was in front of NFL coaches, GMs, and scouts looking to see what I could do," said Clarke. "That helped me out a lot, then coming here I was able to fine tune and improve on what I did there."
Clarke is expected to be selected in any of the day three rounds of the NFL Draft later this spring.
Outside of the Clarke and Sims, current CFL all-purpose guy and former Mountaineer, Noel Devine participated in workouts.
He impressed scouts by proving he was as fast as anybody they may have seen while traveling the country from pro day to pro day. Devine was clocked unofficially at 4.25 seconds in the forty-yard dash.
"I was happy and blessed to have a second opportunity to get out on the field in front of scouts and showcase my talents," Devine said. "I put up good numbers and did the best that I could."
Devine was one of three players a year or more removed from the program that came back to workout. Ryan Clarke and Cecil Level returned to Morgantown as well.
Other graduates or soon-to-be graduates that worked out today included Darwin Cook, Pat Eger, Dozie Ezemma, Curtis Feigt, Will Marable, Ivan McCartney, Doug Rigg and Shaq Rowell.
Rigg impressed showing up in great shape. He ran in the 4.6s on both of his forty-yard dash attempts and then put up 20 reps of 225 pounds on the bench press.
For McCartney he wanted to prove that he had the body type and skill set to play wide receiver in the NFL. After working out at Brandon Marshall's gym back in western Florida over the past couple of months, he was anxious to get the workout complete.
"It was really nerve racking at first, but as we started to go through drills all the butterflies started to go away," said McCartney. "I learned a lot from Brandon Marshall, when I worked out with him, he told me just to stay humble."
Cook was seen speaking with a scout from the New Orleans Saints while Eger and Feigt spoke with a scout from the Cincinnati Bengals.