WVUs Top Opponent Player Countdown - No.s 10-6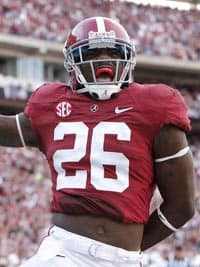 As the 2014 football season gets closer, WVSports.com is examining the top-opposing players the West Virginia football program will see throughout the fall. We will go through the top 50 players Dana Holgorsen and company will be preparing for this season.
Between a rigorous Big 12 Conference schedule in addition to taking on perennial national title contender Alabama and boarder rival Maryland, the Mountaineers will be tasked with taking on some of the nation's best talent. Our countdown continues into the Top 10 with No.'s 10 thru 6:
10. Stefon Diggs - WR - Jr. - Maryland
Stefon Diggs is one of the nation's most dynamic playmakers. He can run around or past defenders. He can catch the ball or run with it. When the ball is in his hands opposing defenses cringe. Diggs unfortunately suffered a bad leg injury seven games into the 2013 season. If he returns fully healthy, which is a question mark due to how much he uses his legs to slash and cut up the field, he will still be one of toughest players in the country for any defense to game plan for. Maryland can use Diggs in a variety of ways so it'll be interesting to see which ways Randy Edsall and the Maryland offensive staff can find ways to put the ball in their playmakers' hands. Expect Diggs to bounce back stronger in 2014 after a devastating injury in 2013.
9. Cedric Reed - DE - Sr. - Texas
A first team All-Big 12 selection a year ago, Cedric Reed was almost impossible for offensive tackles to stop. Reed is six-foot-six, 270 pounds and is relentless while attacking the passer. Last season alone Reed has 79 tackles, 10 sacks and a conference leading 5 forced fumbles. This guy puts fear into offensive tackles for good reason. Odds are he'll have another season similar to the one he had a year ago, the only different is that his pass rushing partner, Jackson Jeffcoat has moved onto the NFL, which means Reed could possible see more double teams and more attention from Texas' opponents.
8. Landon Collins - S - Jr. - Alabama
Coming off of a great 2013, Alabama safety Landon Collins should be even better in 2014 for Nick Saban. Collins is rangy, can cover and provide support in the run game. A year ago he compiled 70 tackles, 4 tackles for loss, 2 sacks, 2 forced fumbles and an interception. He filled up the stat sheet quickly. Collins along with Tre DePriest are the studs of the Alabama defense. Collins should have another great year for Crimson Tide.
7. Desmond Roland - RB - Jr. - Oklahoma State
After platooning with Jeremy Smith through the first five games of the 2013 season, Desmond Roland took over as the Oklahoma State starting running back and then never gave it away. Roland carried the ball 176 times for 811 yards, caught nine passes for 83 yards and scored 16 total touchdowns to lead the Cowboys. He'll get more touches in 2014 with Smith gone to graduation. Expect Roland to have a big fall in Stillwater for Mike Gundy.
6. Amari Cooper - WR - Jr. - Alabama
Alabama always has a good run game, which makes people forget the amount of talent the Tide have at the receiver spot. Amari Cooper is projected as one of the top receiver prospects for the 2015 NFL Draft. Cooper will be a tough matchup for any cornerback that tries to matchup with him. He caught 45 passes for 736 yards and four touchdowns in 2013. With a new quarterback taking the reigns for AJ McCarron, it is safe to say whoever it is will lean on the sure-handed Cooper week to week until he gets comfortable with the other Crimson Tide receivers.
******