Following the Boykin Model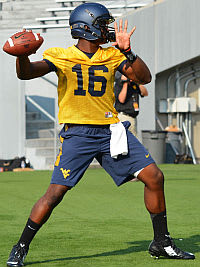 DALLAS - During the spring, West Virginia head coach Dana Holgorsen made a few critical decisions to help his team offensively.
First, he named redshirt junior Skyler Howard his starting quarterback just a few weeks into practice. Another was allowing highly touted class of 2014 quarterback, William Crest to play as a receiver and running back, since he wouldn't start under center.
"We're planning on doing some of the different things with William Crest, with that running back type body he has, he can carry the ball and can also transition into the slot and be able to do things successfully downfield," said Holgorsen. "It's going to be interesting to watch."
West Virginia is modeling the use of Crest's versatility after how conference foe TCU used Trevone Boykin in 2013. Boykin is now the league's best quarterback and the preseason offensive player of the year, but two seasons ago, he was behind then-TCU starter Casey Pachall, so the Horned Frogs made the decision to allow Boykin to see the field in another capacity.
Coincidentally, Boykin made 11 catches for 100 yards in Fort Worth against West Virginia that season.
"For us, at the time, we just wanted to get our best players on the field anyway we could and Trevone (Boykin) was one of our better players. When you're trying to win ball games, you just do whatever you try to do as long as it doesn't disrupt your football team," said TCU head coach Gary Patterson. "It just made us better."
Holgorsen and receivers coach Lonnie Galloway, feel the same way about Crest going into training camp. Galloway served as the lead recruiter on Crest, when the quarterback was at Dunbar High School.
The West Virginia staff, like Patterson felt about Boykin, believe Crest is simply too talented to leave off the field.
"William is invaluable and the thing about him is that he is a quarterback that will get out there to play some receiver," said Galloway. "Look at (Trevone) Boykin, he did it well and did it well against us, so Coach Holgorsen will take that same approach of a quarterback first that can play receiver too."
What made Boykin successful was how Patterson and his staff at TCU managed their multipurpose athlete. By coaching him as a quarterback first, Boykin was able to quickly adapt to the receiver spot.
It was truly a seamless transition.
"I really think playing receiver helped me be a better quarterback as did playing quarterback helped me learn receiver quickly. When I lined up at receiver, I just remember always knowing when I would get the ball because I could read the defenses," said Boykin. "You don't see receivers get taught like the quarterbacks get taught and I stayed in the quarterback meeting room that whole season. I never went to receiver meetings, so basically since I was an athlete, I got on the field anyway I could."
Crest approached the West Virginia staff about playing receiver during the spring and they obliged, but both the player and the coaches agreed he was still going to be coached, just like Boykin, as a quarterback first.
"William (Crest) will be in my quarterback meeting room the whole time," Holgorsen said. "He'll take good backup quarterback reps, but when William isn't in there taking quarterback reps, it would just be a shame for him to be sitting there on the sideline. We have a good plan for him."
Holgorsen, Crest and the West Virginia program start training camp next week.