Game Preview: Baylor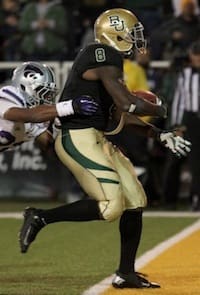 Game Preview: WVU vs. Baylor
Series: 1-0 WVU
Last meeting: 2012: WVU 70, Baylor 63 F
Television: 8 p.m., Fox Sports 1 (Craig Bolerjack - play-by-play, Joey Harrington - analysis, Ryan Niece - sideline)
Line: +21.5 West Virginia
West Virginia (3-2, 1-1) will travel to Floyd Casey Stadium for another matchup against an undefeated nationally ranked Big 12 Conference opponent in No. 16/17 Baylor (3-0).
The Mountaineers and Bears played a thrilling 70-63 shootout in Morgantown a season ago, where both teams prolific offenses continued to deliver punch after punch to the tune of 133 combined points and 1,507 total yards until West Virginia was able to convert a key first down and run out the clock in the fourth quarter.
This season has a different feel for both programs, as the Mountaineers continue to find their way offensively while both teams feature much better defenses than a season ago.
The Bears have kept the momentum rolling offensively after a strong finish to last season winning seven consecutive games including the opening three to this year in dominating fashion.
Baylor head coach Art Briles is entering his sixth year with the program compiling a 36-60 record during that tenure. Overall, Briles is in his 11th season as a head coach in college football with a 70-58 mark over that time period.
Baylor leads the nation in offense with 751.3 yards per game, as well as 69.5 points per game, on the way to setting numerous school records in the process. A total of 22 of Baylor's 26 drives have resulted in scores on the season and the starting offense has played only five series after halftime. Expect Baylor to use much of the same fast-paced tempo as they did a season ago and the Bears are one of the most efficient and up-tempo offenses in the nation under Briles.
It will be the biggest challenge to date for a West Virginia defensive unit that has rebounded from last season's disappointing results.
Junior quarterback Bryce Petty has taken the reigns of the offense and hasn't disappointed, completing 75-percent of his passes for 1001 yards and 8 touchdowns on the season, while avoiding any turnovers. Petty has plenty of weapons to distribute the ball to as well with running back Lache Seastrunk along with wide receivers Tevin Reese and Antwan Goodley.
Baylor has only played one game in 27-days, but is the second opponent in a row to have a bye week prior to facing the Mountaineeers so West Virginia should be prepared to see a well-rested Bears squad.
"But the good thing is that our guys are fresh, energized, and anxious, and when you're anxious to do something then you usually have a lot of anticipation and get out there and do it. So from that standpoint, we're certainly ready to go and we certainly have a lot of respect for West Virginia. They're an extremely talented football team that seems to be playing really well, especially coming off last week," Briles said.
Defensively much like West Virginia, the Bears are much improved, allowing only three touchdowns all season while scoring four of their own. Defensive coordinator Phil Bennett's group is a seasoned one and that experience has been key for the improvement shown by the group.
Briles is ready to see any of the three West Virginia quarterbacks, but did believe he saw some impressive things from Clint Trickett a week ago.
"They're all different and they've all had their ups and downs. I thought that Trickett the other day gave them a spark and I thought he was accurate in his plays. Our job is to do what our job is and that's what our defense will do," he said.
The game will kickoff at 8 p.m.
West Virginia Depth Chart:
OFFENSE:
QB - 9 Clint Trickett (r-Jr), 14 Paul Millard (Jr), 7 Ford Childress (r-Fr)
RB (A) - 3 Charles Sims (r-Sr), 4 Wendell Smallwood (Fr), 2 Dreamius Smith (Jr), 29 Dustin Garrison (Jr)
FB (B) - 88 Cody Clay (r-So), 42 Garrett Hope (So)
WR (X) - 12 Ronald Carswell (r-So), 19 KJ Myers (r-So)
WR (Z) - 85 Ivan McCartney (Sr.), 11 Kevin White (Jr)
IR (Y) - 6 Daikiel Shorts (Fr), 5 Mario Alford (Jr)
LT - 79 Nick Kindler (r-Sr), 63 Mike Calicchio (r-Jr)
LG - 67 Quinton Spain (r-Jr), 78 Marquis Lucas (r-So)
C - 76 Pat Eger (r-Sr), 65 Tyler Orlosky (r-Fr)
RG - 64 Mark Glowinski (r-Jr), 78 Marquis Lucas (r-So)
RT - 62 Curtis Feigt (r-Sr), 57 Adam Pankey (r-Fr)
DEFENSE:
DT - 98 Will Clarke (r-Sr), 97 Noble Nwachukwu (r-Fr)
NT - 90 Shaq Rowell (r-Sr), 93 Kyle Rose (r-So)
DE - 99 Dontrill Hyman (Jr), 45 Eric Kinsey (So)
BUCK - 2 Brandon Golson (Jr), 18 Marvin Gross (Fr)
SPUR - 31 Isaiah Bruce (r-So), 37 Wes Tonkery (r-Jr)
WILL - 33 Jared Barber (Jr), 35 Nick Kwiatkoski (r-So)
SAM - 47 Doug Rigg (Sr), 11 Sean Walters (r-Fr)
FCB - 34 Ishmael Banks (r-Jr), 7 Daryl Worley (Fr)
FS - 8 Karl Joseph (So), 9 K.J. Dillon (So.)
BS - 25 Darwin Cook (r-Sr), 41 Ricky Rumph (So)
BCB - 26 Travis Bell (r-Jr), 16 Terrell Chestnut (r-So)
SPECIAL TEAMS:
PK - 86 Josh Lambert (r-Fr)
P - 91 Nick O'Toole (So)
KO - 48 Michael Molinari (r-Jr)
LS -87 John DePalma (So)
H - 48 Michael Molinari (r-Jr)
PR - 12 Ronald Carswell (So), 10 Jordan Thompson (So)
KR - 5 Mario Alford (Jr), 4 Wendell Smallwood (Fr)
Notes:
Sixteen Mountaineers earned their first career starts this season with Mario Alford (WR), Ronald Carswell (WR), Ford Childress (QB), Mark Glowinski (RG), Brandon Golson (BUCK), Marquis Lucas (LG), Paul Millard (QB), KJ Myers (WR), Tyler Orlosky (C), WR Daikiel Shorts (WR), Charles Sims (RB), Dreamius Smith (RB), Clint Trickett (QB), Daryl Worley (CB), Josh Lambert (K), Nick O'Toole (P).
True freshmen that have played include: Marvin Gross (LB), Carlton Nash (CB), Wendell Smallwood (RB), Daikiel Shorts (WR), Jeremy Tyler (S) and Daryl Worley (CB).
In total, 29 Mountaineers saw their first game action this season including Mario Alford (WR), Justin Arndt (LB), Michael Calicchio (OL), Ronald Carswell (WR), Ford Childress (QB), James Gayeski (DL), Brandon Golson (BUCK), Mark Glowinski (RG), Jarrod Harper (S), Dontrill Hyman (DE), Josh Lambert (K), Devonte Mathis (WR), Logan Moore (WR), Carlton Nash (CB), Brandon Napoleon (CB), Noble Nwachukwu (DE), Tyler Orlosky (C), Nick O'Toole (P), Daikiel Shorts (WR), Charles Sims (RB), Wendell Smallwood (RB), Dreamius Smith (RB), Clint Trickett (QB), Jeremy Tyler (S), Sean Walters (LB), Kevin White (WR), Daryl Worley (CB) and Maurice Zereoue (RB).
Injuries: Neither Clint Trickett or Ford Childress have been ruled out, but both have been dealing with injuries. LB Nick Kwiatkoski and RB Dustin Garrison are dealing with hamstring injuries, both haven't been ruled out but neither played a week ago. DL Christian Brown has been battling a leg injury. Redshirt senior and back up BUCK linebacker Dozie Ezemma broke his lower leg and foot against William & Mary and will miss the remainder of the season. West Virginia also will be without junior linebacker Shaq Petteway who will miss the entire season with a torn ACL. Sophomore cornerback Nana Kyeremeh also will miss the entirety of the season with a shoulder injury.
Redshirts: Head Coach Dana Holgorsen has already announced that he plans to redshirt the following players this season: junior running back Andrew Buie, junior offensive lineman Stone Underwood, freshman wide receiver Shelton Gibson, freshmen linebacker Al-Rasheed Benton, freshman fullback Elijah Wellman, freshman safety Isaac McDonald, freshman wide receiver Jacky Marcellus, freshman safety Malik Greaves, freshman offensive lineman Marcell Lazard, freshman offensive lineman Tyler Tezeno and freshman offensive lineman Grant Lingafelter.
Points to click:
* Avoid big plays. Baylor has an explosive offense that will go vertical early and often and the West Virginia defensive backs must stay on top of the wide receivers to avoid anything down the field against the Bears skilled wide receivers. West Virginia must force Baylor to throw into coverage. On the same note, when the Bears go short, the Mountaineers must tackle or those short gains can develop into long ones.
* Handle the road. West Virginia will play it's second Big 12 Conference road game of the young season and the Mountaineers will need to handle it as well as they did during a trip to Oklahoma. Baylor will be amped for this game seeing as it is 8 p.m. kickoff and the Bears have started the season so strong. The Mountaineers will need to avoid giving up any big plays early in the game and handle the initial waves of momentum to make this game interesting.
* Turnovers. For both side it will be the stat of the day defensively. Both teams want to force turnovers and will rely on that stat to help decide the outcome of the game. Baylor has a penchant for forcing turnovers and the West Virginia offense has had it's fair share during the season's first five games. Defensively the Mountaineers have been able to force turnovers against their opposition, but the Bears have not turned the ball over.
* Win first and second down. West Virginia has done a good job of this in the early stages of the season, but when the Bears do run the football, the Mountaineers have to keep it to a minimum. If Baylor is able to pick their poison against the West Virginia defense it could be in for a long day, but by putting the Bears in third and long they will be able to bring pressure and get to the quarterback and get him to the ground.
* Then get off the field. Winning first and second down is one step, next will be getting the opposing offense off the field on third down. West Virginia has been much better in this area than a season ago, but this will be the biggest challenge to date. When the Mountaineers dial up pressure it needs to hit home to avoid any plays vertically.
* Contain Petty. West Virginia has played some talented quarterbacks up to this point, but things won't get any easier against Petty, who currently ranks inside the top ten in several major statistical categories. The Mountaineers must make him uncomfortable and force him out of what he wants to do.