Holgorsens Take: Big 12 Teleconference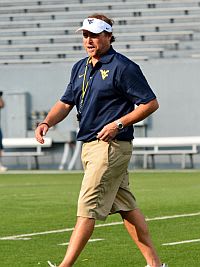 West Virginia will open the season against No. 2 Alabama Saturday in the Georgia Dome and head coach Dana Holgorsen offered an update on the Mountaineers preparation for the matchup.
Senior cornerback Ishmael Banks has been reinstated to the team after appealing to the NCAA about his academic situation. However, the ruling is that Banks will be suspended for the season's first three games and can return when the Mountaineers open Big 12 Conference play against Oklahoma. Banks will be eligible to practice with the team during his absence.
"We're glad he got it resolved," he said.
Filling in at the vacant cornerback spot could be a number of players, as Holgorsen declined to name a starter instead saying that both Terrell Chestnut and Travis Bell have been playing well and will see snaps against Alabama. The head coach also mentioned that junior college transfer Jaylon Myers has been full-go and could see time along with Ricky Rumph.
The other open competition in the secondary is at free safety and once again, Holgorsen declined to pencil in a starter instead focusing on the fact that both options in Dravon Henry and Jeremy Tyler will see time in the game.
"It's probably more important how they play throughout the course of the game," he said.
West Virginia has more depth at the running back position than at any other point during Holgorsen's tenure and he said that regardless who gets the starting nod, several will play and the carries will be decided by which one of the options has the 'hot hand' and is running the ball well.
The team ran through a mock game Saturday in preparation of the season opener to simulate different situations and help the team become comfortable with the game-day routine. Holgorsen believes it also should help with the additional experience that the team will have this year as opposed to a season ago.
Kickoff for the Alabama game is set for 3:30 p.m. and is just one of several non-conference marquee matchups that West Virginia is set to face over the next couple seasons with BYU, Virginia Tech and Tennessee all set as neutral site games.
"We're playing one of the best teams in the country year-in and year-out," he said. "Coach (Nick) Saban's body of work speaks for itself."