Huggins Not Worried Yet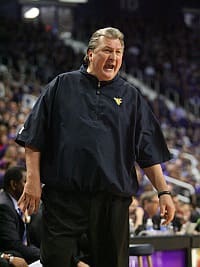 On Saturday, West Virginia and head coach Bob Huggins lost their second straight game in blowout fashion falling to Baylor 87-69 at home in Morgantown. Earlier last week, West Virginia lost on the road at Oklahoma by 19 points.
The losses mark the first time this season that West Virginia (18-5, 6-4) has fallen in back-to-back games. Coinciding with the consecutive defeats, West Virginia also fell from second in the Big 12 Conference standings to a tie for fourth in the league.
"I think we'll be fine. We have good guys and they really are good guys. For the most part I think they have tried to do the right things," said Huggins during the Big 12 Coaches' Teleconference Monday morning. "They might not have always done the right thing, but always have tried to."
West Virginia faces an uphill climb during its remaining eight games.
Huggins and company will face the top two teams in the league, Iowa State and Kansas in a span of three days. Additionally, West Virginia will play Kansas twice in two weeks and every opponent left on the schedule has been ranked in the Top 25 for at least one week this year.
"I don't look very far ahead," Huggins said. "I don't think you can do anything other than worry about the next game."
West Virginia welcomes Kansas State to Morgantown on Wednesday. Earlier this month the Mountaineers defeated the Wildcats by six points in Manhattan.
"I don't think it's that hard to bounce back after a loss. I think actually it's harder to bounce back after you win a few in a row," Huggins added.
After looking back at the loss to Baylor, Huggins credits the Bears for simply executing their game plan while his team struggled to make any shots from the field.
Baylor shot nearly 55-percent from the field and exactly 40-percent from the three-point line on Saturday.
"Honestly, they took shots that we wanted them to take, but they made them. I thought they shot the ball extremely well and once the ball started going in, they just really shot it well," Huggins said. "We want people to take quick shots, but they made them."
West Virginia also struggled to keep the best rebounder in college basketball, Rico Gathers off the boards, which was an emphasis entering the game against Baylor.
Gathers had 17 points and 16 rebounds against West Virginia.
"I thought he (Gathers) was terrific," Huggins said. "It's refreshing to see a guy who understands his role and where is bread and butter is and doesn't get out of what he's really good at doing."