West Virginia wins Big 12 tournament opener over Texas Tech 78-62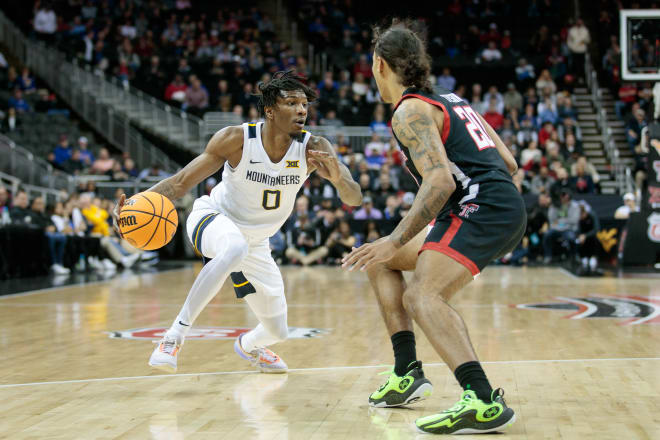 The two teams both stole wins at each other's home courts in their regular season matchups, but it was the Mountaineers who took the win in Kansas City with a 78-62 victory over the Red Raiders.
The Mountaineers got down 6-0 to start the game, but Emmitt Matthews picked off a pass and got to the line in transition to put WVU on the board.
Jimmy Bell managed to get ahold off of an offensive rebound and find Tre Mitchell for three, making the score 9-5 with West Virginia behind.
Erik Stevenson hit two consecutive threes on his first attempts of the night to tie the game with 11 minutes to go in the first. Seconds later, WVU took their first lead of the game.
With nine to go, Jimmy Bell hit to free throws to keep West Virginia ahead 21-20.
Three minutes later, Stevenson hit back to back midrange jumpers to get his point total into double digits. He was then fouled while shooting a three to claim a seven point lead with five to go.
Keddy Johnson then grabbed a steal and completed the and-one to help the Mountaineers take their first double-digit lead of the game. Shortly after, he hit a three.
The first half came to a close with West Virginia up 43-35. Erik Stevenson led the scoring with thirteen points on just six shots.
Emmitt Matthews scored the first points of the second, and then two minutes into the half, Keddy Johnson hit a three.
Erik Stevenson assisted buckets by Emmitt Matthews and Tre Mitchell, with Mitchell's three giving the Mountaineers a 14 point lead.

Mitchell hit his third three of the night with about 15 minutes remaining, and then Joe Toussaint took a charge to give his team possession while up by 15.
Three minutes later, a three from Joe Toussaint kept the Mountaineer lead at 15.
Midway through the second half, West Virginia led by 17.
Stevenson's first bucket of the second half gave his team their first 20+ point lead of the night with under seven to play.
A three by Texas Tech's Pop Isaacs got the Mountaineer lead down to 12 with three minutes to go.
Erik Stevenson hit a three with a minute to go to secure the win for Bob Huggins, the winningest current coach in college basketball as of tonight.
The game came to a close with WVU winning 78-62 over Texas Tech.
They will next face the top ranked Kansas Jayhawks tomorrow at 3pm in the quarter-final of the Big 12 tournament.