Bartlett on board with WVU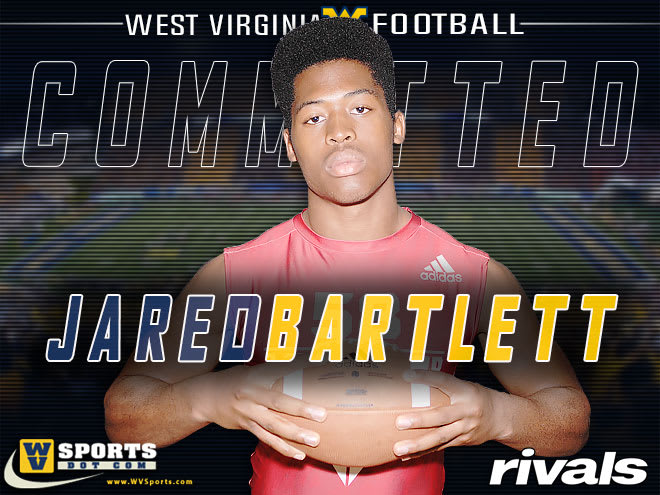 SUBSCRIBE today to stay up on the latest in Mountaineer sports and recruiting.
West Virginia has created a pipeline of sorts into the Peach State and the Mountaineers dug down into the south again for the commitment of Suwanee (Ga.) Collins Hill linebacker Jared Bartlett.
Bartlett, 6-foot-2, 210-pounds, selected the Mountaineers over 20 plus offers including Alabama, North Carolina, Maryland, Minnesota, Rutgers, Purdue, Wake Forest and Syracuse.
The standout linebacker prospect announced his decision on social media but actually had made the choice a while back.
"I have been holding this in for a while, so it is exciting to say I am committed to West Virginia," Bartlett said. "I wanted to announce it right before the season, so I have held this in for almost a month now."
West Virginia wasn't a new face in the recruitment of the Rivals.com three-star prospect but moved up the list following an unofficial visit to Morgantown for the Showtime Camp in late July.
During that visit he was able to get a look around campus as well as a picture of how he could fit into the West Virginia defense which made quite an impression at the time.
"When I went up there for my first visit, I loved it. The campus was beautiful and it really felt like the place for me. Everything just clicked for me and it was right. That visit just showed me what I had been researching was real," Bartlett said.
The Mountaineers are slotting Bartlett as an outside linebacker in the defense and initially offered a scholarship to him over a year ago during the evaluation period. The coaching staff has been impressed not only with his ability to tackle but how he can cover ground and get to ball carriers.
Cornerbacks coach Doug Belk handled the recruitment of Bartlett and established a strong connection that was able to get him on campus for a visit. From there, defensive coordinator Tony Gibson was able to lay out the scheme for the Mountaineers during a meeting.
"Coach Gibson talked about how I would fit into the scheme. We had a defensive meeting where we went over West Virginia's scheme and their plays and where I'd play linebacker what I'd be doing in certain scenarios," Bartlett said.
Bartlett is the 13th commitment for West Virginia in the 2019 class and represents the fourth that could play linebacker in the group. Those players include Winston Salem (N.C.) Parkland linebacker Lee Kpogba, Martinsburg (W.Va.) linebacker Dewayne Grantham and even Morgantown (W.Va.) University athlete Amir Richardson who could grow into the position.
He also represents the fourth commitment from the state of Georgia.
WVSports.com will have more with Bartlett in the near future.