Briason Mays joins teammate Lowe as a West Virginia commitment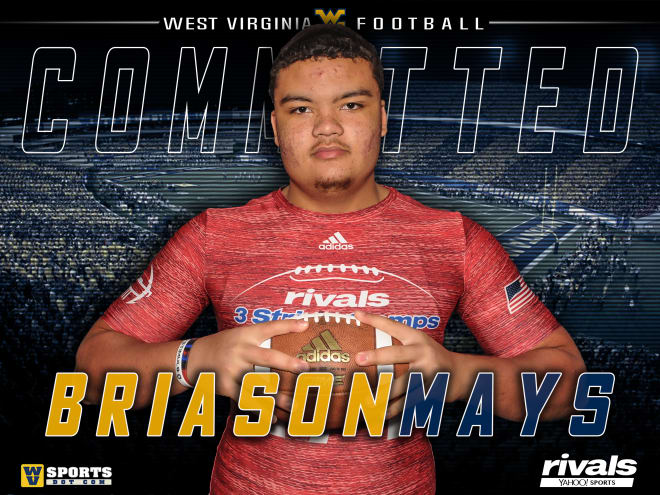 The West Virginia football program hadn't previously signed a prospect from the state of Tennessee since the 2010 recruiting class, but now has a pair in the current group following the commitment of Bolivar Central offensive lineman Briason Mays.
Mays, 6-foot-4, 285-pounds, followed the lead from his quarterback and fellow West Virginia commitment Trey Lowe by pledging to the Mountaineers following a visit to campus for the annual Showtime Event where he was able to get a comprehensive look at the school.
That experience was enough to push the Big 12 Conference program over the other schools sticking out on his list including Georgia Tech, Illinois, Central Florida, Navy, Middle Tennessee and Appalachian State, all of which had offered. Mays previously made visits to Illinois, Navy and Middle Tennessee out of that list.
The Rivals.com three-star first received an offer from the Mountaineers in mid-June, but made up group in his recruitment quickly immediately moving into his list of top programs.
Offensive line coach Joe Wickline and Dan Gerberry served as the lead recruiters for Mays and the pair were able to quickly make up ground for him with their pursuit.
"I had very good conversations with all of them. They told me I could come in and contribute early. If I come and do what I'm supposed to do I could contribute very early at guard," Mays said.
Offensive coordinator Jake Spavital initially extended the scholarship offer to Mays while he was in pursuit of Lowe and the message was that there were opportunities for a player of his skill set. While scouting his top quarterback target during the evaluation period, Spavital was able to eyeball Mays, too.
While serving as Lowe's right tackle at the high school level, Mays will transition inside to offensive guard at the college level which is more of his natural position. Over twenty schools extended a scholarship offer to Mays because of agility and quickness at the spot.
Around 20 programs in total extended a scholarship offer to Mays, while Louisville and several others had been expressing strong interest in the lineman.
Mays becomes the second offensive lineman in a class which is expected to take three to four, while overall his pledge represents the 14th to select the Mountaineers.
WVSports.com will have more with Mays in the near future.