Carter keeps working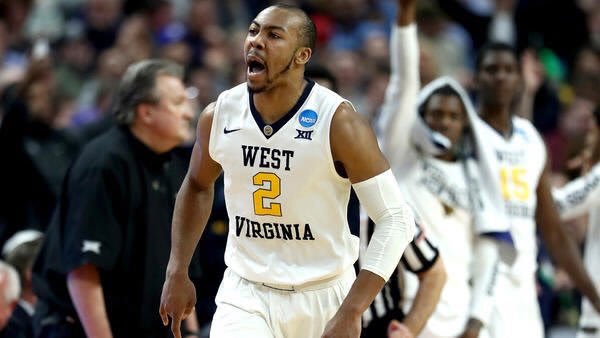 Jevon Carter always approached it as a win-win.
When he submitted his name for the NBA Draft in late April until the minute he removed it a little less than a month later, Carter never had any inkling that he wasn't going to return to West Virginia.
"Not at all. I always knew I was coming back," he said.
So why go through the process?
Well to put it simply, it's built to help players gain valuable information on how to better their games with NBA personnel and apply it to the coming season. Basically a test drive of sorts that allows players to get feedback on where they need to improve.
And those areas for Carter were?
"They want to see how well I can be a point guard, my leadership, my play making skills, my toughness and my defense," Carter said.
His defense? Yes, even the reigning national defensive player of the year needs to continue to improve if he wants to make his hay with a basketball at the professional level. And Carter, like you'd expect, didn't hesitate when asked how he will accomplish those goals on both ends.
"You keep working," he said.
Adding that Russell Westbrook, the MVP of the NBA didn't take this summer off trying to improve just because he received recognition last season.
And while there was one win in being able to gather that knowledge to prepare himself for the future, the other is the fact he has one more season with the Mountaineers by virtue of his choice to remain in Morgantown.
The senior has developed on the court during his four-years, transitioning from a combo-guard to an actual point guard and one of the most complete players at his position across the landscape of college basketball. That type of transformation doesn't come easy, it takes quite a bit of work.
Head coach Bob Huggins has seen the results of that time put into the gym. Carter has become almost a living example of how to do conduct yourself in that regard.
"He's playing really well. Passes it better, decision making is much better, he's shooting the ball much better, his ball skills are much better – all the things you can get better with putting time in," he said.
Adding that Carter is playing at a "really, really high level," in pre-season practice and it's a recipe for a strong swan song as the Illinois native is looking to close his career on a high note. The highest of notes actually, with the ultimate goal a national championship. In fact, he's still not over the loss to Gonzaga last year in the NCAA Tournament where the Mountaineers gave away the lead down the stretch.
"It's still going. It won't change until I win a championship," Carter said.
West Virginia is facing some roster turnover to start the year losing several seniors as well as redshirt junior Elijah Macon from last year's club. Additionally, junior forward Esa Ahmad is suspended for the first half of the season and freshman point guard Brandon Knapper will miss the year with a knee injury.
That thrusts Carter into a clear leadership role with this club and it's one he's embraced even being more vocal in practice with the newcomers on the roster.
"We're young and have a lot of new guys – new faces," he said. "A lot of guys that haven't had a chance to really experience what the college season has to offer so we really need my leadership."
That, they do.`