Game Preview: WVU vs. Texas Tech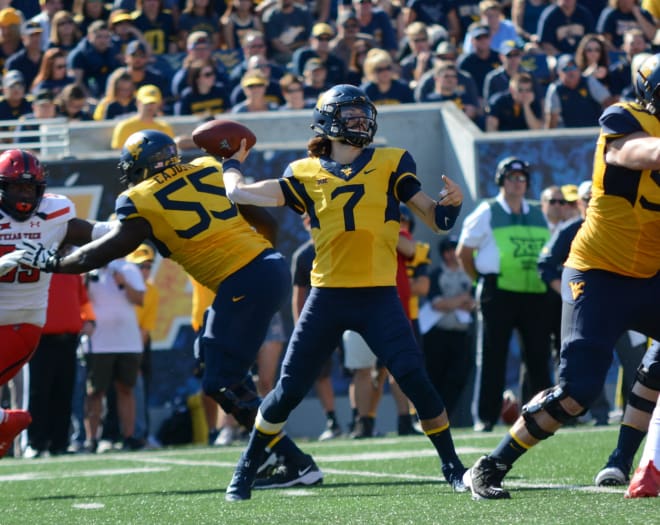 SUBSCRIBE today to stay up on the latest in Mountaineer sports and recruiting.
Series: West Virginia leads 5-2
Last meeting: 2017: WVU 46 TTU 35
Television: 12 p.m., ESPN2, Anish Shroff (play-by-play), Ahmad Brooks(analyst), Roddy Jones (sideline)
No. 12 West Virginia (3-0) will hit the road for the first time this season against a No. 25 Texas Tech (3-1) team that is coming off an impressive win on the road itself.
Both teams are now sitting 1-0 in the Big 12 after the Mountaineers dispatched Kansas State 35-6 in a game that wasn't as close as the scoreboard suggested.
The Red Raiders are coming off their first win in Stillwater in 17-years as Texas Tech dominated Oklahoma State 41-17 on the road.
The win snapped a 16-game losing streak against ranked opponents that started during the 2014 season and was as total of an effort that the Red Raiders have put together in recent history.
Head coach Kliff Kingsbury is in his sixth season atop the Red Raiders football program and the one-time Texas Tech quarterback has amassed a career record of 33-34 during that span.
There are obvious connections between the two programs. West Virginia head coach Dana Holgorsen coached at Texas Tech from 2000-07 serving as the inside wide receivers coach before being elevated to co-offensive coordinator. The head coach also gave Kingsbury his first coaching opportunity when he moved to Houston, where the two actually were roommates at the time.
Holgorsen currently has a 4-1 record against Kingsbury during his tenure and is 4-2 against the Red Raiders overall since joining the league in 2012.
The Red Raiders again boast one of the nation's best offenses averaging 52 points and 623 yards, including 435.8 through the air. The point total is the fifth best nationally, while both yardage marks are tops nationally through the first four weeks of the 2018 season.
True freshman Alan Bowman is the engine to the Red Raiders attack and he has played beyond his years tossing for 1,557 yards and 10 touchdowns in four games (three-stars) against two interceptions. That includes a record-breaking game where he threw for 605 yards and five scores against Houston.
Texas Tech has a number of pass catchers to distribute the ball to despite losing four to the NFL a season ago with six different ones hauling in at least 10 passes on the year. Junior Antoine Wesley leads the team with 30 receptions for 511 yards and four scores, while senior Ja'Deion High has hauled in 22 catches for 301 yards and a pair of scores.
The Red Raiders are coming off a game where they rushed for over 200-yards against Oklahoma State and will use a running back by committee with Ta'Zhawn Henry leading the team with 231 yards and six scores and senior Demarcus Felton has accounted for 202 yards and four more scores.
And it helps that Texas Tech returned all five starters up front which has played out on the field as the unit has allowed only four sacks through the first four games, ranking 21st nationally.
The much-maligned Red Raiders defense took some strides in the game against Oklahoma State and is allowing a respectable 28.3 points to go along with 437.3 yards per contest. Now in the fourth year under coordinator David Gibbs, the Texas Tech defense thrives on forcing turnovers and is a veteran group that returns a bulk of starters especially in the secondary.
The group has already forced seven turnovers through four games and return both of their starting linebackers from a season ago in Jordyn Brooks and Dakota Allen. The return of safety Jah'Shawn Johnson was an added bonus in the secondary against Oklahoma State.
After losing the first trip to Lubbock in 2012, West Virginia has won the past two meetings and the past four overall in the series. Last season, the Mountaineers rallied from an 18-point third quarter deficit to beat the Red Raiders 46-35.
The game is scheduled to be televised at noon on ESPN2.
West Virginia Depth Chart:
OFFENSE:
QB: 7 Will Grier, (r-Sr.), 17 Jack Allison, (r-So.)
RB: 4 Kennedy McKoy (Jr.) or 32 Martell Pettaway (Jr.) or 20 Alec Sinkfield (r-Fr) or 4 Leddie Brown (Fr.)
FB: 42 Logan Thimons, (r-So.), 41 Elijah Drummond, (r-So.)
TE/H: 88 Trevon Wesco, (r-Sr.), 84 Jovani Haskins, (r-So.)
X WR: 8 Marcus Simms, (Jr.), 82 Dominique Maiden, (Sr.)
Y WR: 12 Gary Jennings, Jr., (Sr.), 16 William Crest, (r-Sr.)
Z WR: 13 David Sills V, (Sr.), 1 T.J. Simmons, (r-So.)
LT: 55 Yodny Cajuste, (r-Sr.), 72 Kelby Wickline, (r-Jr.)
LG: 73 Josh Sills, (r-So.), 57 Michael Brown, (r-Jr.)
C: 79 Matt Jones, (r-Jr.), 78 Jacob Buccigrossi, (r-So.)
RG: 58 Joe Brown, (r-Jr.), 65 Isaiah Hardy, (Sr.)
RT: 53 Colton McKivitz, (r-Jr.), 76 Chase Behrndt, (r-So.)
DEFENSE:
DE: 5 Ezekiel Rose, (Sr.) or 46 Reese Donahue, (Jr.)
NT: 40 Kenny Bigelow, (Sr.), 56 Darius Stills, (So.)
DE: 12 Jabril Robinson, (r-Sr.), 55 Dante Stills, (Fr.)
SAM LB: 9 JoVanni Stewart, (Jr.), 34 Shea Campbell, (r-Jr.)
MIKE LB: 10 Dylan Tonkery, (r-So.), 45 Adam Hensley, (Jr.)
WILL LB: 11 David Long, Jr. (r-Jr.), 35 Josh Chandler, (Fr.)
SPUR: 6 Dravon Askew-Henry, (r-Sr.), 26 Deamonte Lindsay, (r-Jr.)
BS: 16 Toyous Avery, (r-Sr.), 39 Dante Bonamico, (r-So.)
FS: 2 Kenny Robinson, (So.), 29 Sean Mahone, (r-So.)
LCB: 24 Hakeem Bailey, (r-Jr.), 28 Keith Washington, (r-Jr.)
RCB: 4 Josh Norwood, (Jr.), 1 Derrek Pitts, (So.)
SPECIAL TEAMS:
K: 30 Evan Staley (r-So.), 43 Luke Hogan, (r-So.)
P: 15 Billy Kinney, (r-Sr.), 30 Evan Staley, (r-So.)
LS: 64 Rex Sunahara, (r-Jr.), 51 Kyle Poland, (r-So.)
H: 15 Billy Kinney, (r-Sr.), 43 Luke Hogan, (r-So.)
KO: 30 Evan Staley, (r-So.), 43 Luke Hogan, (r-So.)
PR: 8 Marcus Simms (Jr.), 13 David Sills, V, (Sr.)
KOR: 8 Marcus Simms (Jr.) 12 Gary Jennings, Jr., (Sr.)
NOTES:
--This year marks the 127th year of West Virginia football with the Mountaineers currently sitting in 14th place all-time in wins in college football.
--West Virginia is 23-5 in September under head coach Dana Holgorsen and 7-3 at home.
--West Virginia is 5-2 all-time against Texas Tech and 4-2 as Big 12 Conference members.
--Since 2000, West Virginia is 115-16 when scoring more than 30 points and 59-4 when scoring more than 40 points in a game.
--The Mountaineers are 84-11 since 2002 when winning the turnover battle.
--In the Holgorsen era, WVU has produced 86 games with 300 or more yards, 66 games with 400 or more yards, 36 games with more than 500 yards and 18 with more than 600 yards.
--Under Holgorsen West Virginia has scored 30 or more points in 61 games, 40 or more points in 31 games, 50 or more points in 11 games and 60 or more points three times.
--West Virginia has scored on 20 of their 32 drives this season, including 17 touchdowns. The Mountaineers are a perfect 12-12 in the red zone with nine touchdowns.
--West Virginia is No. 1 in the Big 12 and No. 2 nationally in third down conversion percentage by converting 62-percent (20/32) through two games.
--The 2018 roster consists of 122 players from 22 different states.
--A total of 25 players have seen their first on-the-field action at West Virginia: Jack Allison (QB), Charlie Benton (LB), Kenny Bigelow (DL), E.J. Brown (S), Joe Brown (OL), Leddie Brown (RB), Jacob Buccigrossi (OL), Shea Campbell (LB), Josh Chandler (LB), Zach Davis (OL), Isaiah Esdale (WR), Jovani Haskins (TE), Luke Hogan (K), Ricky Johns (WR), Exree Loe (LB), Rashon Lusane (S), Josh Norwood (CB), Jabril Robinson (DL), T.J. Simmons (WR), Alec Sinkfield (RB), Dante Stills (DL), Brenon Thrift (DL), Tyler Thurmond (OL), Keith Washington (CB), Brady Watson (RB)
--Coaching staff assignments: AHC/DC/LB Tony Gibson (field), OC/QB Jake Spavital (field), CB Doug Belk (press box), WR Tyron Carrier (field), S Matt Caponi (field), TE/FB Dan Gerberry (press box), RB Marquel Blackwell (field), LB/ST Mark Scott (press box), DL Bruce Tall (press box), OL Joe Wickline (field)
--West Virginia has run a total of 200 plays, 101 on the ground and 99 through the air. The rushing game has totaled 515 yards for an average of 5.1 yards per carry and three touchdowns. The passing game was accounted for 1,121 yards and 14 touchdowns. The offense is averaging 8.2 yards per play.
--West Virginia has gained 20 first downs by the run and 51 via the pass. The Mountaineers are averaging 171.7 yards per game on the ground and 373.7 through the air for 545.3 yards of total offense.
Injuries/Suspensions: Redshirt freshman running back Alec Sinkfield (ankle) and redshirt sophomore tight end Jovani Haskins are both questionable for this game. Redshirt sophomore linebacker Charlie Benton will miss the remainder of the season after sustaining a knee injury against Tennessee in the season opener. Senior linebacker Quondarius Qualls and redshirt sophomore linebacker Brendan Ferns are out for some time with ACL injuries sustained in the spring but are expected to return this season. Redshirt sophomore cornerback Jake Long will be out for an unspecified amount of time with a broken wrist but also is expected to return. Two true freshmen in tight end Mike O'Laughlin (ACL) and Dillon Spalding (ankle) will miss the entire 2018 season after undergoing surgery.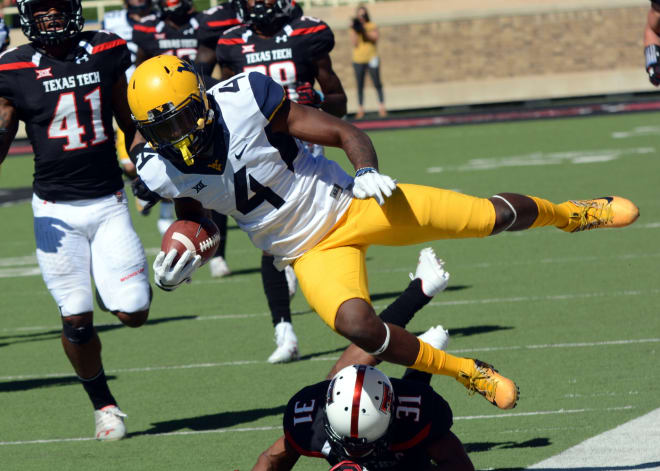 POINTS TO CLICK:
--Win first down. The easiest way to slow down an offense that wants to use tempo, and the Red Raiders are certainly that running at least 86 plays in all four games, is to win first down. If West Virginia can prevent Texas Tech from getting into an offensive rhythm it can allow them to force the Red Raiders to slow things down in order to prevent from going three and out in quick fashion. Getting them behind the sticks also can allow coordinator Tony Gibson to mix up some things and to try to confuse a true freshman quarterback that has played very well to date. Win first down to slow down Texas Tech.
--Alignment. If winning on first down is the most important thing for the West Virginia defense to combat the tempo that Texas Tech is supposed to play with then the second most important aspect is being able to get aligned quickly and not get caught out of position. Texas Tech has a lot of success by rushing things and catching opponents out of alignment as well as throwing some curve balls with how they elect to attack. Expect much of the same in this meeting and the onus will be on the Mountaineers defense to be in the right spots. Expect Gibson to keep things basic to prevent any confusion. It then becomes an issue of doing your job and making tackles when the ball does get out.
--Do you on offense. Texas Tech is going to play man coverage in a lot of instances which means that West Virginia is going to have to make some contested plays. The Red Raiders will likely have an unblocked hat in the box on run plays but that means it will be important for the running backs to make people miss and control some of the tempo themselves by moving the ball. As for when Grier passes, there should be opportunities to get the football out and the West Virginia wide receivers will again need to win one-on-one battles to get themselves in the best position to succeed.
--Take care of the ball. West Virginia turned the ball over four times against Kansas State and that simply can't happen on the road if the Mountaineers want to beat a talented Texas Tech team on their own field. The mistakes haven't cost West Virginia to date but they can't afford to play a sloppy game if they want to come out with a win. Penalties also will be a key statistic in this one as they have helped to swing the past two meetings in the favor of the Mountaineers.