Change of heart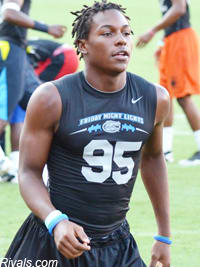 Just one day after announcing he would be enrolling at Marshall, Miami (Fla.) Coral Gables wide receiver
Jacob McCrary
now intends to enroll at a junior college with plans to eventually join the West Virginia football program.
McCrary, 6-foot, 182-pounds, originally committed to West Virginia in June of 2013 and became one of the most active recruiters out of the entire class.
But after failing not to achieve the necessary standardized test score, announced that he would be enrolling at Marshall on social media Tuesday.
However, that plan was short lived after McCrary sat down and thought about the situation and eventually decided that he wanted to pursue the opportunity to eventually enroll at West Virginia.
"I can't go to Marshall my heart won't let me. I love West Virginia so I'm going to junior college and then from there West Virginia," he said.
"I'd rather take the longer way to get to where I want to be," he added.
McCrary choose West Virginia over 30+ scholarship offers with Florida State, Clemson and several others making up that list. He was recruited by running backs coach JaJuan Seider.
He plans to enroll at a junior college in Mississippi with hopes of being able to attend West Virginia in the class of 2016.
*****

Click
Here
to view this Link.