Family at the center of WVU commitment for Grantham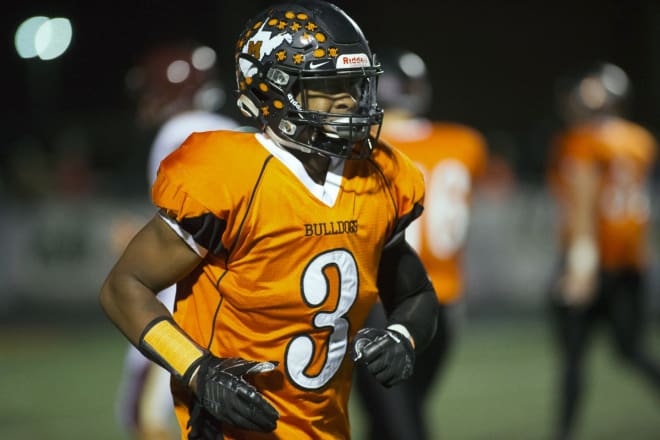 Family has always been at the center of the game of football for Dewayne Grantham from the early stages until his current situation at Martinsburg High School.
So naturally, that aspect was going to be important when it came to making a college decision as well.
And the in-state linebacker prospect found exactly what he wanted at West Virginia when he offered his verbal commitment to the football program Saturday evening.
"I've talked to Coach (Dana) Holgorsen a lot and being around me it just felt like a family to me. That's what it's always been for me growing up," he said. "He always made me feel like I was a son to him and coach (Tony) Gibson made me feel like a family and West Virginia just felt like home."
As it should. Grantham has been on campus at West Virginia plenty of times since the Mountaineers became the first program to extend a scholarship offer to him following an impressive one-day camp performance and the coaches have remained in touch ever since.

When there was an opportunity to speak or go see prospects, the Mountaineers made Grantham a priority and that stems in large part because of what the coaches see in him.
"They think I have a mentality that I can't be stopped," he said. "And you need that to play there."
The 6-foot-1, 200-pounder, informed the coaches of his decision while meeting with Holgorsen last night when the head coach asked him if he was ready to offer his commitment. Grantham couldn't hide the fact that he was ready to end the process and become a Mountaineer so he simply replied, "yes."
And now he is. After informing the coaches of the news, he started the process of taking pictures with Holgorsen, Gibson and assistant Mark Scott, who also handled his recruitment.
Grantham was staying home to play college football.
"I'm very excited to play in front of my home state," he said. "A lot of people, like my family can be there. And it's exciting to play with another bulldog for four years."
That bulldog is fellow Martinsburg 2018 defensive line prospect Tavis Lee, who like Grantham, is currently committed to the Mountaineers and is expected to sign in February. The two have been close friends for a long time and the opportunity to play together was just another nudge in favor of the home state program.
"A lot of people don't like to run to our side so it'll be fun doing it for the next four to five years," he said.
Grantham has the ability to play on either side of the ball evident by rushing for over 1,000 yards this past season while recording 86 tackles on defense but it is the latter where he will likely receive his first opportunity to make a dent in the rotation.
"I like laying the wood," he said.
The in-state prospect is expected to begin his career at outside linebacker and now will turn his attention to his school work and a possible third straight state championship. He is currently eyeing the possibility of graduating early in order to arrive at West Virginia in December.
"I want to get a feel and get stronger before the season starts," he said.
Grantham said he is hearing from both Virginia Tech and Virginia, but plans to return to Morgantown during the spring in order to watch a spring practice.