Holgorsens Take: Big 12 Teleconference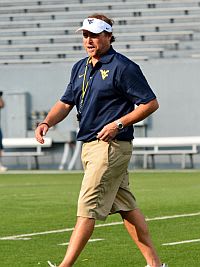 West Virginia head coach Dana Holgorsen said even prior to the Alabama game that win or lose his toughest challenge would be the Sunday after and so far so good as the Mountaineers prepare for the home opener against Towson.
Holgorsen said that he was pleased with the fact that his team put in a positive practice Sunday evening and were attentive and looking to improve after watching the film of the Alabama game.
"I was happy with Sunday. We didn't have a bunch of guys that were hanging their heads or were looking to be patted on the back because we kept it close," he said. "The attitude and the energy were good on Sunday and after today's off-day we anticipate tomorrow will be the same way."
West Virginia fell to Alabama 33-23 Saturday and while Holgorsen said he isn't into moral victories, there are positives to take away from going toe-to-toe with the No. 2 team in the country. The message from the head coach was a simple one; use that effort as a blueprint for the rest of the season.
"If that's the standard we need to play with and if we can play with that type of mentality the whole year, we'll have a good team," he said.
Although the matchup was a physical one, West Virginia emerged without any significant long-term injuries according to Holgorsen.
"We got out of that game extremely heathy and didn't add anybody to the long term injury situation," he said.
The head man believes that his team played with strong effort on all three sides of the football, but failed to capitalize in critical situations, something that was an Achilles heel of sort for the Mountaineers a season ago when they finished 4-8. Correcting that and capitalizing on those opportunities will be key for the Mountaineers to avoid similar results to a season ago.
The trick will be turning those positives into motivation for the rest of the season and a building block to improve.
"We have to make plays in order to beat very good teams," he said.
Mario Alford impressed with his 100-yard kick return against the Crimson Tide, and while he has drawn some comparisons to Tavon Austin, Holgorsen said that he is more of a straight line speed type of player and the two are different on the field.
West Virginia will host Towson Saturday at 7:30 p.m.