Sitting down with Luck: Scheduling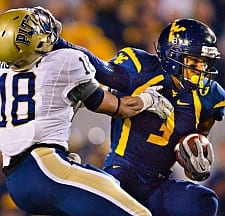 Although many of the details of the new playoff system are in the process of being ironed out, Luck believes that eventually it will move to something very similar to the college football rating percentage index, or better known as RPI, which judges a team's wins or loses along with the strength of schedule.
Under that scenario a team could afford to lose one game and still be eligible to finish in the top four and qualify for the playoff due to navigating a difficult out of conference slate.
That belief has led to college football programs looking to beef up their out of conference tilts, including West Virginia. But the trick is in developing a quality schedule without making it similar to one an NFL team would encounter. Luck believes that every school in what is considered the "power-five" conferences could eventually drop playing schools from the FCS level altogether.
"We probably need to upgrade the quality of our non-conference opponents and in doing that we will focus on some of our traditional regional rivals," Luck said.
The teams mentioned by Luck as potential targets are Pittsburgh, Virginia Tech, Virginia, Maryland, Kentucky, Louisville and Cincinnati. And although he has had talks with those respective athletic directors there has been no movement yet.
"It's a matter of what dates you have open," he said.
West Virginia is already on the books to play Maryland for several more seasons as well as the 2014 opener with Alabama in Atlanta, the neutral site matchup with BYU and a deal with East Carolina.
The matchup with Alabama was an opportunity that was too good to pass up, as the matchup will highlight the university in the nationally televised season opener against one of college football's true powerhouse programs.
"It's the kind of game we want to play in. We want to give our kids a platform to do well," he said.
The challenge of crafting a schedule isn't an easy one, as Luck must ensure that the Mountaineers play at least six home games, and preferably seven, although in years that the Mountaineers host only four home-conference games that is difficult. As well as balancing out the slate to appease both fans and coaches.
"You don't want a brutal schedule but you want it to be tough enough that you get respect," he said. "There are competing priorities and you do the best you can."
One issue that has popped up in recent months has been the potential for a scheduling alliance with another conference, often connecting the Big 12 and the ACC. Luck said that there have been talks going on between the two parties but it wouldn't just stop at football instead including Olympic sports such as wrestling and gymnastics, where each conference has only a handful of teams.
Due to the geographical proximity and familiarity with many of the ACC programs, it's an issue that Luck considers West Virginia "blessed," that the conferences have been engaging each other about scheduling.
"It's old home week with the ACC because we know a lot of those schools well," he said.
But he stopped short saying that there was a need for the Big 12 Conference to further expand past its current ten-team membership instead saying that everybody in the conference was happy with the current makeup as well as the revenue split between ten teams instead of twelve.
"At this point I don't see any driving force or need behind it," he said. "Our denominator is ten unless there is some compelling reason to expand."
Additionally, Luck said he expects conferences to sit back and explore with how the playoff system works with each of the five power conferences and their various number of teams before any further decisions are made down the road.
****
****