Spain Set for Rookie Camp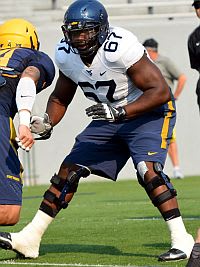 Tomorrow, former West Virginia offensive guard Quinton Spain gets to live out his dream of playing in the NFL for the first time when reports for rookie minicamp with the Tennessee Titans.
A week ago that same dream looked to be in jeopardy as Spain watched all seven rounds of the NFL Draft without hearing his name called. During the sixth and seventh rounds, he began getting phone calls from different NFL teams, but none of those teams bit and picked him.
He even saw four of his college teammates selected including fellow guard Mark Glowinski. Spain watched Mario Alford get picked in the seventh round too.
It was frustrating for the four-year starter at West Virginia.
"I was worried. I felt like my dreams weren't going to come true," said Spain. "I didn't know what I did wrong, I did everything right. I felt like I had let my family down even though I did what I had to do at West Virginia."
After the draft was over, good news finally came to Spain and his family. The Tennessee Titans were ready to sign Spain as an undrafted free agent.
"My agent called me and told me he setup a free agent deal. It brought joy to my family after hearing that," Spain said.
During the time leading up to the draft, Spain was able to meet privately with four different teams, Pittsburgh, Cincinnati, the New York Jets and Tennessee. The Titans made it clear they were interesting in the six-foot-four, 330-pounder from the start of the draft process.
Spain always felt he would end up, one way or another with the Titans.
"They asked me to come on a private visit even before I had a pro day. I didn't get invited to the combine and I hadn't gone through pro day yet, so they must have seen something in me to want me there," Spain explained. "I took that into consideration and felt like I needed to be in Nashville, Tennessee playing for the Titans."
Additionally, Spain has a pretty good chance to make the team.
The Titans do not have a wealth of offensive line talent. They drafted a center, Andy Gallick and a tackle, Jeremiah Poutasi last week. Outside of projected starters, Taylor Lewan, Brian Schwenke and Chance Warmack, have a group of linemen that will be competing for a spot on the depth chart.
"When I went on that visit, they told me they really only have four linemen and that they needed guards and tackles. I talked to them and told them I could play right or left guard or tackle. I told them I could just do it all," Spain said.
Spain has two goals for his first season as a pro, to make the 53-man roster and to start.
He believes he can accomplish both.
"I'm a little upset I didn't get drafted, but now I have an opportunity to get a chance to see what I could do," he said. "I have to take advantage of my shot and prove to everyone that I should have been drafted."