WVU football announces the hiring of Marquel Blackwell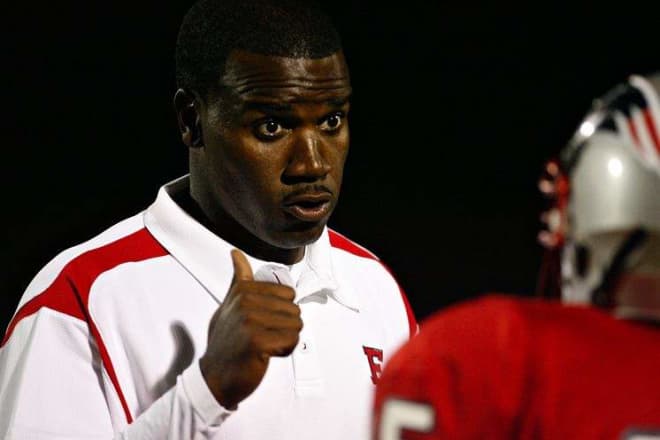 MORGANTOWN, W.Va. – West Virginia University football coach Dana Holgorsen has announced the hiring of Marquel Blackwell as the Mountaineers' running backs coach.
"We would like to welcome Marquel and his family to the West Virginia football program," Holgorsen said. "He comes highly recommended and brings successful experience coaching running backs. He will be a great addition to our staff as a coach and recruiter."
Blackwell comes to West Virginia after serving as the running backs coach at Toledo since 2016. He was part of the staff that led the Rockets to a 20-7 mark during his tenure, including an 11-3 record in 2017, the 2017 Mid-American Conference championship and two bowl appearances.
"I am excited about coming to West Virginia and being a part of its long and successful football tradition," Blackwell said. "This is a great opportunity for me to work and learn under a great offensive coach like Dana Holgorsen and expand my knowledge in his offensive system. My family and I are looking forward to being members of the Mountaineer family."
Blackwell's 2017 rushing attack ranked No. 29 nationally, averaging 204 yards per game. Under his direction, All-Mid American Conference first team senior running back Terry Swanson rushed for 1,363 yards and 14 touchdowns, ranking No. 23 nationally. His total rushing yards were the tops in the MAC and his 14 touchdowns were tied for third in the league.
Freshman running back Shakif Seymour rushed for 704 yards, second-most on the team, and had 12 rushing touchdowns, third in the MAC and fourth among all freshmen in FBS. Against Bowling Green, Seymour tied a school record with five rushing touchdowns.
In 2016, Blackwell's coached Kareem Hunt, who led the MAC and was No. 15 nationally with 1,475 rushing yards and rushed for at least 100 yards on eight occasions. The school's all-time career rushing leader with 4,945 yards, Hunt ranks third in MAC history. The 2016 first-team All-MAC selection was North's Outstanding Player in the Reese's Senior Bowl, was a third round selection of the Kansas City Chiefs and earned Pro Bowl honors as a rookie.
Under Blackwell's guidance, Toledo ranked fourth in the MAC in rushing offense (195.0 ypg) in 2016. He helped four running backs to gain 200 yards or more rushing during the season. Swanson was second on the team with 600 rushing yards.
Prior to his time at Toledo, Blackwell coached 20 high school players who earned Division I scholarships, as well as three college players who became first-round NFL draft picks.
Blackwell was an offensive standout as a collegian at USF from 1999-02, throwing for 9,108 yards and 57 touchdowns and running for 1,235 and 20 touchdowns. The three-year captain led the Bulls to a 9-2 record as a senior before playing in the NFL with the New York Jets.
Blackwell's first coaching positions came at Freedom High in New Tampa, Florida, first as the offensive coordinator in 2006, then as the head coach from 2007-08. He returned to USF from 2009-11 as a quality control coach.
Following a year as the running backs coach at Western Kentucky in 2012, Blackwell returned to USF, as the director of player development in 2013. He returned to the high school ranks in 2014 as the offensive coordinator at Lakewood High, before spending the 2015 season at Florida as a quality control specialist, working with the Gator quarterbacks.
A native of St. Petersburg, Florida, Blackwell graduated from USF in 2002 with a bachelor's degree in communications. He and his wife, Sharvettye, have two daughters, LeQuay and Shaye.