WVU lands its running back in Mathis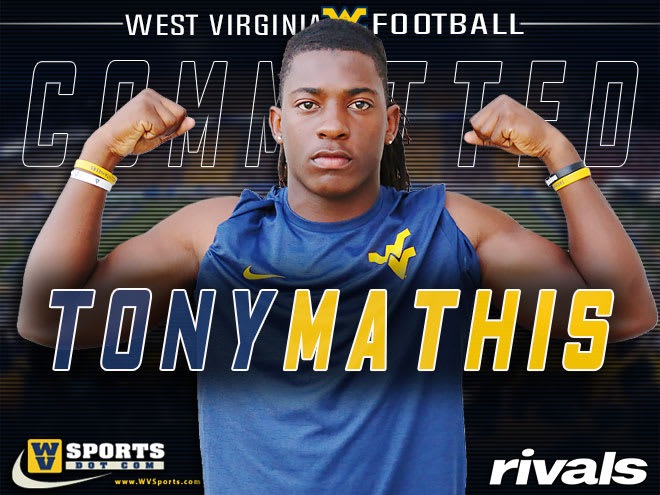 SUBSCRIBE today to stay up on the latest in Mountaineer sports and recruiting.
West Virginia has found its running back in the 2019 recruiting class after Cedartown (Ga.) athlete Tony Mathis committed to the Mountaineers football program.
Mathis, 6-foot-0, 195-pounds, received his first power five offer from West Virginia and the Mountaineers were consistent throughout the course of the process.
"It felt great to get that offer. It was a blessing and the hard work is paying off. It is a big offer, so it meant a lot to me," Mathis said at the time.
Cornerbacks coach Doug Belk led the charge for the program, while running backs coach Marquel Blackwell also was heavily involved throughout his recruitment.
"We talk all the time and they've been telling me how big of a difference maker to their offense I'd be," he said. "And I'd have a good chance of playing early."
Mathis spent a bulk of the time on campus during the Showtime Camp weekend in late July with Belk as well as Blackwell and the two assistants were able to show him how he could fit into the program and how he would be utilized in the scheme.
--HEAR FROM MATHIS IN AN IN-DEPTH INTERVIEW AND VIDEO--
The multi-day visit was an eye-opener for the Georgia running back for a number of reasons.
One because it was his first trip to West Virginia and two because Mathis was able to get a full tour of the campus which also helped him reach the conclusion to pull the trigger for the Big 12 Conference program.
The Rivals.com three-star prospect selected West Virginia over the other four schools in his top group that included Louisville, Iowa, Purdue and Wake Forest. In total, Mathis had over 20 scholarship offers.
Mathis is coming off a season where he recorded over 1,000 rushing yards almost 500 receiving yards and over 30 total touchdowns for his high school team. His versatility is one of his biggest assets considering the fact that he can be utilized in several spots on the field.
Mathis is the only commitment for West Virginia at the running back spot and represents the 15th pledge overall for the program in the 2019 recruiting class. He also represents the fifth commitment from the state of Georgia for the Mountaineers in this cycle.
The Peach State product is the second commitment of the day for West Virginia following Philadelphia (Pa.) Imhotep Inst. Charter School safety Tykee Smith.
Rated as the 98th best prospect in state of Georgia, Mathis was assigned a 5.5 ranking by Rivals.com.
WVSports.com will have more with Mathis in the near future.