Gibson gets his chance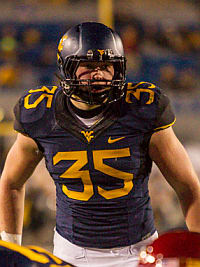 If Tony Gibson has said it once, he's said it a million times since his return.
The Van, W.Va. native never imagined when he initially left Morgantown following the 2007 season that he would ever have the opportunity to return. But that's exactly what happened last season and he actually coincidentally enough ended up in the same office in the football building.
Now less than a year later, Gibson is realizing another goal that he never believed would happen in Morgantown; he's officially the defensive coordinator for his home-state team. It was an opportunity that Gibson had waited his entire life to accept so when the job was proposed to him there wasn't much time spent mulling it over.
"It was a no-brainer," he said. "Obviously it's a dream come true for me to be in my home-state coaching the Mountaineers in the role that I'm going to be in right now."
While Gibson's rise to his current position might seem quick to some, he'll calmly remind anyone that's listening that he has spent 20-years in the business and 14 at the highest level biding his time to get the chance to assume this role.
"How much longer do you have to go to get your opportunity? That's what I'm grateful for," he said.
Gibson left West Virginia "hated," as he refers to the emotions that surrounded when he elected to follow Rich Rodriguez to Michigan during his first stint in Morgantown. But after stops at Pittsburgh and Arizona following his time in Ann Arbor, Gibson realized he wouldn't find any place better than what he already knew.
So the chips fell in the right way when he was given the opportunity to come home and he took it, much like the decision to promote from within and give him the keys to the defense.
"To do it and get away from it and realize how good it was. That was the biggest thing," he said.
The newly minted defensive coordinator admits that he has never called a full-game at this level of football, but he does have a vast network of experience working with proven DCs such as Greg Robinson, Scott Schaffer, Jeff Casteel and Keith Patterson, slowly picking their brains and collecting strategies for when he would be given his chance.
"Those guys have trusted me on game day to make some calls and do some things," he said.
Gibson doesn't plan any major overhauls to the West Virginia defense and so far has only made one adjustment to the terminology, changing the BUCK linebacker title to the WILL, although the responsibilities will remain the same.
The Mountaineers will still line up with three down linemen, four linebackers and four defensive backs and while there will be progression to the scheme; the idea will remain the same as the one left by Patterson.
"We've had good meeting with the players and they understand the role I will be taking on," he said.
However, one change will come with Gibson set to take over the linebackers instead of safeties, although that could eventually be tinkered with after the addition of Tom Bradley to the West Virginia coaching staff. If he does assume that role it will be his first time at the Division One level and since very early in his career.
"Part of the deal that Dana and I discussed is that if you're going to be able to call it and know it, you need to be involved with the front end and the back," he said.
Gibson has surrounded himself with a collection of what he refers to as "the best available coaches," which in turn should only make the difference better after two uncharacteristic seasons. But as a state native himself, Gibson understands the mentality of the Mountaineers better than anyone and plans to completely dedicate himself to the continued improvement of the group.
"There's a great tradition at West Virginia, a great winning tradition and they're embarrassed right now," Gibson said. "They're hungry and ready to work."
-----
Like WVU content like this? Get all of WVSports.com's market leading West Virginia team and recruiting coverage FREE for 45-days with our trial. Use Promo Code WVU45. Sign up here

Click
Here
to view this Link.