Holgorsens Take: 8/14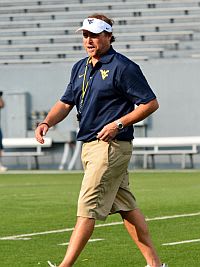 After two long weeks, the West Virginia football program is getting ready to wrap up fall training camp.
Classes are set to begin on campus Monday in Morgantown, so WVU will practice in helmets and shoulder pads later today, full pads tomorrow and end on Saturday with a team scrimmage.
"I like where were at, we have gotten pretty much everything in," said Head Coach Dana Holgorsen. "We're trying to get everybody healthy at this point, but we have to keep moving forward."
Offensively, Holgorsen is happy with the direction Clint Trickett is taking the team in. Trickett has progressed and developed with knowledge of the offense in addition to his leadership skills.
With a clear direction quarterback the entire offense has benefits.
"I'm very happy with where he (Trickett), is at mentally, physically and from a leadership perspective." Holgorsen said.
Throughout camp, WVU has worked on improving situational offense and offensive efficiency. Having Trickett as the number one guy has helped during those reps.
"We were middle of the pack last year in yards per game and yards per play last year, but dead last in the stuff that matters like third downs, fourth downs and turnover margin," Holgorsen said. "We haven't played a game, so I don't know if we've progressed on it or not, but we've focused on it."
The number two quarterback will likely be Paul Millard, who has had a good camp and has the deepest knowledge of the offense of any quarterback on the roster. With that said, freshman William Crest will continue to receive reps at the position.
On defense, Holgorsen and defensive coordinator Tony Gibson have plenty of decisions to make as the end of camp nears.
There are position battles going on at every level of the defense. Dravon Henry and Jeremy Tyler are competing for the starting free safety spot while Ishmael Banks and Terrell Chestnut are very close at the cornerback spot.
At linebacker, Ed Muldrow and Al-Rasheed Benton have pushed Brandon Golson and Nick Kwiatkoski while Golson and Kwiakoski have been limited in practice.
"What the rotation is going to be there, I don't know yet," Holgorsen said. "We're a good, solid, two-deep on defense, I just don't know who the starters are."
Following Saturday's scrimmage, West Virginia will go through a mock game week, where they will practice just like as if it was a regular season game week.
INJURY REPORT - Holgorsen says senior linebacker Jared Barber, who injured his knee late last season, will not be ready for the season opener and didn't shut the door on Barber using his redshirt this year. Also, Holgorsen says linebacker Brandon Golson should be out of the limited contact jersey in about a week.
*****

Click
Here
to view this Link.