Jones commits to WVU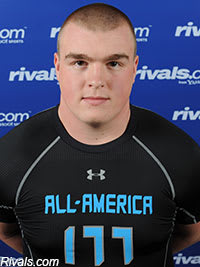 West Virginia picked up its sixth commitment in the class of 2015 when Hubbard (Oh.) offensive lineman
Matthew Jones
selected the Mountaineers while visiting Morgantown for the junior day festivities.
Jones, a Rivals.com four-star prospect selected the Mountaineers over offers from Kentucky and Toledo along with interest from a large number of other schools. At 6-foot-4, 305-pounds, Jones has the ability to play several positions along the offensive line and is ranked as the 14th best guard in the class of 2015.
"It's close to home, they treat me very nice and overall it's just a great place," he said previously.
West Virginia offered Jones early in the process and that persistence paid off for the talented offensive lineman as he made several unofficial visits to Morgantown over the past year an developed a close relationship with both safeties coach Tony Gibson and offensive line coach Ron Crook.
In fact the straight forward approach that Crook had with Jones helped play a significant role in adding Jones to the Mountaineers class.
"Coach Crook pretty much tells me how it is," he said.
Jones commitment continues a torrid start for the Mountaineers 2015 cycle with six commitments from a number of talented prospects.
Jones is the third four-star prospect to select West Virginia in the class of 2015 joining Miami (Fla.) Northwestern wide receiver Jovon Durante and Miramar (Fla.) defensive back Kendrell McFadden. Also West Virginia has commitments from Durham (N.C.) Southern Durham running back William Cameron, Miramar (Fla.) wide receiver Kahlil Lewis and Morgantown (W.Va.) defensive end Stone Wolfley.
WVSports.com will have more with Jones including a full interview.