More to the story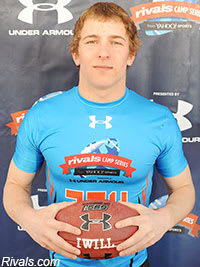 While recruiting often gets boiled down to a few select items such as scholarship offers and statistics, ask Skillman (N.J.) Montgomery head coach Zoran Milich and it's apparent that those characteristics aren't close to telling the story behind new West Virginia quarterback commitment
Chris Chugunov
.
West Virginia became the first power five program to offer the rising senior after a strong performance at the Mountaineers summer camp Sunday but the foundation of his recruitment had already been laid by the coaching staff in the previous months.
Chugunov visited West Virginia for the junior day in February and focused on earning an offer from the Mountaineers. He impressed offensive coordinator Shannon Dawson in the spring enough to spur him to ask the signal caller to make the trip down to Morgantown to reprise his performance throwing the football in front of the watchful eyes of the entire coaching staff.
So he did just that and after earning an offer from the Mountaineers with another standout performance he returned to his New Jersey home to sit down with his mother before quickly accepting the scholarship and committing to West Virginia.
"He's where he wanted to be," Milich said. "He wanted to go somewhere the where the fans are into football and it's somewhere he really liked. He's built for that offense."
And while West Virginia was the first power five school to offer Chugunov, many more were in line from the ACC and Big 10 but each hesitated waiting for the first domino to fall. In fact, a long list of schools had attempted to get the signal caller to throw at their camp but he had his mind set, Milich said.
"Schools told me if West Virginia offers to let them know as soon as possible. I like coach Dawson, coach (Dana) Holgorsen and coach (Brian) Mitchell. They went by what they saw. They know football; they know quarterbacks and they weren't afraid to pull the trigger."
Chugunov measured a legitimate 6-foot-1 ½, 193-pounds, Monday afternoon debunking some of the concerns raised about his frame which originated in large part because the majority of those measurements were taken when he was a freshman in high school. And if he follows in the footsteps of his father, who grew three inches in college, he might not be finished in that department.
"I had one coach come in that had been in the NFL and say you're bigger than Russell Wilson and Drew Brees," Milich said. "I thought you were going to be like 5-foot-10, 165-pounds."
Chugunov represents only the second BCS prospect to come from Montgomery and threw for 1,957 yards with 12 touchdowns and eight interceptions, while completing 48.6 percent of his passes. Numbers that don't even begin to reflect how well he actually played, Milich said.
"We don't have guys that are wide open too many times. He throws people open which I think is his biggest strength," he said. "That makes it easier when the guy does break and gives him a chance to make a play on the ball."
Montgomery also struggled with dropped passes, something that could easily frustrate a quarterback especially when some of his best throws of the season were on dropped passes according to his head coach, but it was truly telling the way Chugunov responded in those situations.
"Chris refused to put that on his highlights. Some of his better throws came on drops and West Virginia did a great job of really watching what took place during the games," he said. "People look at his stats and he probably should have had 2600 yards 21 touchdowns and three interceptions. Three or four of his interceptions came on kids dropping balls."
Chugunov has been thrown into the fire for the past three seasons often taking hits and working against a heavy opposing pass rush, but it's his ability to reset after every play that makes him the successful quarterback he has been at this stage, Milich said.
In fact every college coach that's encountered Chugunov has raved about the intangibles he brings to the game and how he remains calm and collected in every situation. Milich believes that the moment never gets too big for his quarterback and he has an innate ability to rally his teammates. In fact, due to New Jersey's regulations coaches can't work with players until a certain date so Chugunov was the one that organized and ran the workouts.
"That impressed some coaches," he said.
Milich said that Chugunov has been given several opportunities to leave Montgomery but his loyalty is one of his most impressive characteristics which bodes well for West Virginia in regards to his commitment. His head coach believes that had he played at one of the powerhouse programs in New Jersey he could easily have 15-20 more offers to his credit and is legitimately one of the most underrated prospects in the east.
"He's not going to waiver on his commitment," he said.