Pettaway on board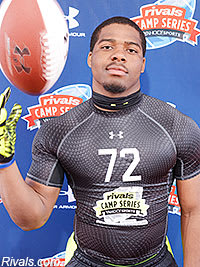 The summer momentum continued for West Virginia with Detroit (Mi.) Martin Luther King running back
Martell Pettaway
committing to the Mountaineers.
"I will be committing to WVU," he informed WVSports.com prior to announcing his choice on Twitter.
Pettaway, 5-foot-9, 202-pounds, had been favoring West Virginia for much of the process due to a strong relationship with running backs coach JaJuan Seider and a productive visit to campus during the spring where he was able to see the ins and outs of the program.
"He tells me I can possibly come in to help change the program a bit. I really like my chances there. They're not afraid to play freshmen. I'm really looking forward to that. I want a chance to go in and start," he said in April.
West Virginia was the first school outside the mid-West region to offer Pettaway and that alone caught his attention but the bond between him and the school only continued to grow over the course of the last couple months since the Mountaineers entered the picture.
The Rivals.com three-star running back originally had a top four that included the Mountaineers, Iowa, Illinois and Western Michigan but also had received offers from Northwestern, Vanderbilt and Cincinnati, among others. Pettaway has the combination of speed and power that you look for at the college level in addition to the ability to catch the ball out of the backfield.
Pettaway becomes the 13th pledge for West Virginia during this recruiting cycle and the first at running back, where the Mountaineers are expected to take several after not landing one a year ago.
The running back also becomes the sixth commitment for West Virginia in the month of June.
WVSports.com will have more on this breaking news including a full interview with Pettaway.