Scott: WVU still at the top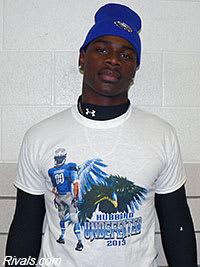 Hubbard (Oh.) Rivals100 running back
Larry Scott
couldn't help from imagining the possibilities as he took pictures wearing West Virginia's uniform at Saturday's junior day events in Morgantown.
And after two of his teammates, 2014 quarterback Brennan Wassil and fellow 2015 four-star Matt Jones, jumped on board and committed to the Mountaineers earlier in the day the Rivals.com four-star prospect admittedly had the thought of ending his recruitment cross his mind but elected to hold off at least for now.
"Putting on that No. 3 jersey really stuck out. I took a picture of that and I keep looking at that helmet and imagining and thinking," he said. "But I didn't want to commit today but West Virginia is definitely still at the top."
Scott, 6-foot-1, 215-pounds, said that while he has been to West Virginia more than any other school, Saturday was "one of the best times he's ever had," in Morgantown as he was able to spend valuable time talking with the coaching staff and touring the campus and facilities.
"It was just a nice time. We went to the basketball game and got to hang out with the players," he said.
The junior running back said that he got plenty of time to talk with all of the coaches on the West Virginia staff and at this point he is very comfortable with how they have recruited him and spoken with him about the school and how he would fit into the program.
"Out of everyone that was there they would give me one-on-ones and talk to me and we have that special bond. They just said that I know everything about West Virginia and it's not about just football anymore it's about family and getting closer with them," he said.
"I know the place more than anywhere else and I agree with them it's just about family now and I have to keep in contact and how all the players are doing and just got things are going up that way," he added.
Scott said that when Jones made the decision to commit to West Virginia he was surprised because he hadn't given him the indication heading into the trip but pulled him to the side to give him the news that he was ready to be a Mountaineer following Wassil's decision earlier.
"I love running behind that big guy," he said. "I think we all fell in love with WVU today because we learned more about them and got into more detail about the school."
The No. 54 rated player in the class of 2015, Scott said that he plans to visit Pittsburgh for their junior day today and is working on setting up a visit to Michigan State for possibly the Feb. 13 weekend. At this point he has no timeline for when a possible decision could arise in his recruitment but at this stage West Virginia has emerged as the early leader although he expects to take his visits to compare programs.
"West Virginia was just the place to be. Everyone around there is just family and they know you and they're nice people and the kind of things I heard around here about West Virginia is not the same as when you go there and see it for yourself," he said.
------
This is just a sample of the content you can get with a membership to WVSports.com, the market leader in West Virginia sports and recruiting coverage. Give us a try and get all of our content with signing day quickly approaching. Come find out what everyone else is talking about and
Subscribe to WVSports.com