Time stands Sills: A look at the JUCO season of David Sills Part 2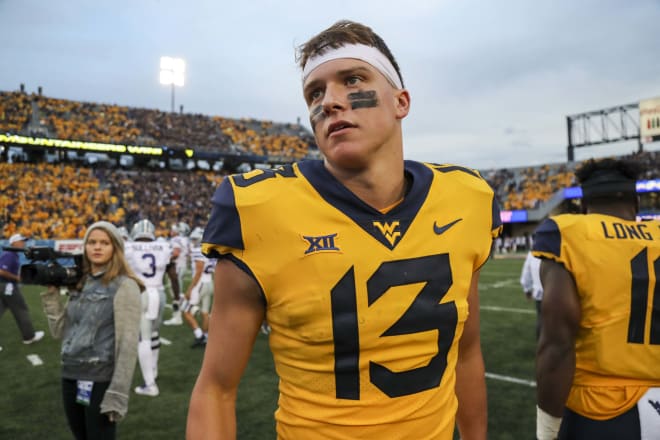 SUBSCRIBE today to stay up on the latest in Mountaineer sports and recruiting.
Today, we dive into part two of our three part series covering David Sills's journey through his lone junior college season at El Camino.
Last week, we covered part one which included the details on the relationship between Sills and El Camino offensive coordinator, Tim Kaub, El Camino entering a rebuilding phase and Sills conquering the preseason quarterback competition for the Warriors.
In part two, we take a look at El Camino's regular season and Sills's experience through another recruiting process.
Regular season
El Camino started off the season with a 2-0 record.
Already, there was a noticeable difference and progress in how the team was competing and Sills's abilities and competitiveness played a significant role in achieving that.
"We were actually competing and a big part of why we were even competing was David's moxy and play making ability," Kaub said. "He really could do a lot with his feet, he was a tough kid. I equate it to how he is as a wide receiver. He's not afraid to go get the ball, high point the ball in a crowd, he's not afraid of contact. He's not the thickest dude you'll ever meet but he's tough as hell. I've had thicker dudes than him that aren't as tough as David was. David is a tough kid for sure."
Kaub saw more of what West Virginia's coaching staff saw in Sills as a wide receiver during El Camino's second game of the year and one specific play reminded him of how he caught the game-winning touchdown pass in the Cactus Bowl against Arizona State during his freshman year at West Virginia.
Sills and the Warriors started things off quickly against Moorpark with an inside zone read play which Sills ended up keeping when the defensive end crashed down, running up the sideline for a 46-yard touchdown just under two minutes into the game.
"I saw a fast twitch-like aspect to him that I've never seen before and in the back of my mind, I'd be a liar if I didn't say I was like 'oh that's what they saw, that's why he caught that game-winning touchdown in the bowl game as a true freshman,'" Kaub said. "I was like 'this kid is a great athlete.'"
The Warriors developed a strong run game early on thanks to Sills. His ability to run the ball forced defenses to account for him more which would open up plays for the running back.
However, this success would be short-lived as opposing defenses began to key in on El Camino's run game and shut it down by loading the box and playing cover zero, forcing the offense and its reeceivers to beat them in man coverage.
The problem with this was that aside from the team's tight end, no other receiver could beat man coverage and overall, receivers struggled gaining yards after the catch.
"Funny little statistic from that is we only had two receiving touchdowns where the receiver physically ran it across the goal line. We had very little run after the catch from our wide outs," Kaub said. "It was very difficult to get any home run open plays to really get your offense up and get teams from playing cover zero again. We had to get really imaginative and try to get guys open to get the ball in their hands."
Fast forward one year later and the results are different for El Camino's offense.
During the 2017 season, the Warrior offense was averaging over 500 yards and 44.5 points per game in a season where they finished 6-5 and won the Beach Bowl. This success didn't happen because Sills wasn't there, but because the coaching staff had a year under its belt and effectively utilized the players and system changes they made.
The Warriors finished just 4-6 during the 2016 season with Sills on the team, but have since gone a combined in two 14-8 seasons. This season, El Camino finished 8-3 overall and fell in the first round of the playoffs to Riverside.
This success was something Sills could see coming after his lone season at El Camino.
"I remember when David left he even said, 'the only thing I regret and I'm mad at is that you guys are gonna be good next year.' He saw what we were building, he bought in, he was a positive influence on the team but he really bought into what we were doing and I'll always appreciate that in him because year ones are very difficult," Kaub said.
"You got half the roster that doesn't believe you should be there and then the other half unsure if they're going to be good or not or if El Camino can win more than three games and David helped steady and calm those waters a little bit."
Another recruiting process
As the season played out, Sills did hear from some Power five schools and Division 1 schools, but most didn't deliver the news that Sills wanted to hear.
Kaub and the El Camino coaches have a simple policy when it comes to helping their players climb up the ranks and play college football elsewhere which involved just working with the player to accomplish whatever goals they had in mind.
"The way we handle recruiting with all of our guys is pretty simple," Kaub said. "You come in, we will work with you recruiting wise, but if any kid comes in and tells us what our goals and aspirations are we honor it because we want happy kids."
So when it came time for Sills to embrace another go around through the recruiting process, Sills made it known that he wanted to continue playing quarterback and eliminate any possibility of playing a different position.
"I've known David, his dream was to be a quarterback and I've always embraced that," Kaub said.
"What David told me was he didn't want to be recruited as an athlete and I said, 'David do you want me to tell these guys that start to inquire with that intention to not bother?' And he said, 'yeah I want to be a quarterback. I'm not going to entertain being a wide receiver anywhere else.'"
According to Kaub, this may have contributed to Sills having limited options by the end of the season.
What else contributed?
There were numerous factors to why things just didn't work out when it came to Sills wanting to accomplish his dream of playing quarterback again.
Overall, Sills put up some decent numbers at times throughout the season, but lacked the big time performances and statistics that would attract attention from Power 5 schools. He finished the season with 1,636 passing yards and 15 touchdowns with seven interceptions and threw for over 200 yards in just three games.
"He was doing everything right and still had pretty pedestrian passing numbers," Kaub said. "I already kind of covered the factors leading into that other than David just not getting it done at that highest level, but for the most part, David did everything we asked of him. So of the recruiting process, my heart went out to him."
There are usually disadvantages to quarterbacks looking to bounce back like those in Sills's position seeking a second chance and/or better opportunity. These include coaches asking why it didn't work out in the first place while recruiting these players.
Most of the time, it takes those big stats every week or even just one career-best game to catch the attention of big time schools. An example is Troy Williams, who played under Kaub at Santa Monica College after transferring from Washington.
According to Kaub, Williams held just two offers until a seven-touchdown performance landed him an offer from Utah. He went on to start at quarterbacks for the Utes the following season.
That big time performance or season just wasn't there for Sills despite him doing everything the coaches asked of him.
"I've had a few bounce back quarterbacks now, there's usually a bit of hesitancy on the damaged goods side of it," Kaub said. "I think the factor of us not being great didn't help. Offensively, if he would've thrown for over 300 a game he probably would've had 10-15 offers. But he didn't and you see that a lot with bounce back quarterbacks."
But that's not to say that big schools weren't interested in Sills.
Like Kaub and West Virginia, other schools saw the athleticism Sills possessed that could shape him into a wide receiver.
There was interest in Sills from Ball State and from a couple schools in the SEC, ACC and Mountain West Conferences, but most of these schools had different intentions for Sills which involved moving him to a different position if he didn't win the starting quarterback job.
"I had a bunch of coaches come up to me and say, 'we'll bring him in as a quarterback but we might move him to receiver if he can't win the job after spring,'" Kaub said. "I would stop that and say don't be duplicitous, don't be disingenuous, if that's what you want to do you need to say it to David because he needs to know that that's on the table."
"There wasn't a lot of quarterback interests. It was a lot of 'hey this kid is a D1 athlete' interests. There was a little bit of trickery in the conversations I had so I, on purpose, kind of shielded David from that," he later added.
Sills didn't make any frustration known, but head coach Gifford Lindheim knew he was feeling just that, but when facing adversity, one must figure out what the next step is and take it.
"Near the end he started to get frustrated and never showed outward frustration, but you could see it in his body language things kinda didn't develop at the recruiting process like he had hoped. You're just looking for what the next step would be," Lindheim said.
That next step had to be decided and with limited options for Sills, there was one possible outcome that was somewhat foreshadowed during El Camino's season.
NEXT UP: In the third and final installment of this series, we'll look at what led to a reunion between Sills and West Virginia as well reflections from Sills, Kaub and Lindheim.