Another Wolfley on board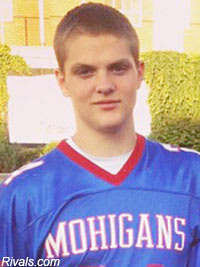 Morgantown (W.Va.) freshman linebacker
Maverick Wolfley
has always dreamt of playing football for West Virginia. Now he'll have that opportunity after committing to the Mountaineers during the junior day festivities.
His father Dale played offensive line from '87-90 and his uncle Ron suited up for the Mountaineers in the early '80s. His brother Stone is currently committed to West Virginia for the class of 2015, so to say it runs in his blood would be quite an accurate depiction.
"I've always wanted to come play for West Virginia or get the opportunity to and I want to play with my brother because he's coming here too," he said.
Wolfley, already at 6-foot-2, 200-pounds before starting his sophomore year, made the decision after talking with head coach Dana Holgorsen one-on-one Saturday afternoon.
"I got my offer yesterday and it did surprise me when I first found out. He told me how I was the first freshman he's ever offered so it was kind of a special thing," he said.
The decision was entirely Wolfley's but after getting word on the offer, the freshman made a quick turnaround to end his recruitment before it ever really began.
"I accepted it immediately," he said. "It's a dream come true. I was really excited to get the offer and I knew from there that's who I was going to come play for."
After giving the news to his future head coach, Wolfley let his family in on the news and they were all excited that another member of the family will don gold and blue.
"My dad is real excited for me. My dad went there and his brother and now my brother so we're all really excited," he said.
Wolfley spent most of last season on the freshman football team and led the team in tackles from his linebacker position before coming up to the varsity level late in the year and will spend this upcoming season entirely on that level. He believes that he will likely end up on the defensive side in college, but also serves as a running back and is open to that as well to follow in the footsteps of his uncle.
The 2017 prospect has been to West Virginia more times than he can remember and actually passes the stadium every day on his way to school. And even with so much to go in his recruitment, Wolfley considers the process wrapped up and he's looking forward to getting better and preparing himself for what comes next.
-----
Like WVU content like this? Get all of WVSports.com's market leading West Virginia team and recruiting coverage FREE for 45-days with our trial. Use Promo Code WVU45. Sign up here