WVU losing skid over, but quick road turnaround with TCU looms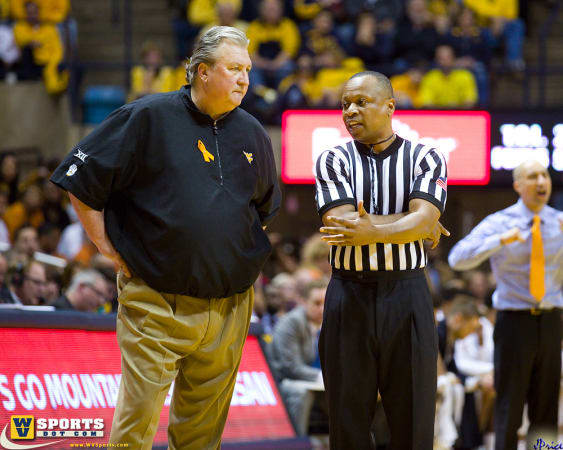 Things didn't start well for West Virginia Saturday.
When trying to snap a two-game losing skid it's best to actually be in the arena to do it. That was the unexpected dilemma faced by head coach Bob Huggins prior to tipoff of the Texas game.
As he's done time after time again, Huggins walked to the place he typically enters the Coliseum only to be denied by event staff seeking a credential.
Yes, a future hall of fame head coach wasn't allowed in the building where he has coached countless games since his return to Morgantown.
"I said I come in this door every game and he said well you can't come in," Huggins recalled. "I said well are you prepared to coach the team?"
Attempts to contact athletic director Shane Lyons, Huggins boss, were unsuccessful.
"I'm thinking maybe I got fired and didn't know it. That's happened before to me," he said.
While waiting, stopped at the door, former West Virginia football coach Don Nehlen walked by with an entourage and interacted with Huggins about his predicament.
"He comes over and pats me on the chest and said this guy here should have coached football. Then I'm thinking am I supposed to switch? What am I supposed to do?" he said. "So yeah, it's been a hard day."
Fortunately for Huggins that was the hardest part of the day as his West Virginia team put together its first complete performance in several games beating Texas 86-51. The Mountaineers shot 46-percent from the field including 66-percent in the second half while beating Texas on the boards.
West Virginia pushed a 10-point halftime lead into a rout.
But life in the Big 12 is no easy task and West Virginia won't have much time to celebrate getting off a two-game slide because a quick turnaround trip to TCU is on deck Monday night.
There isn't any time for mental lapses or letdowns with a team that while struggling losing four out of five games, is 10-2 at home and has been nationally ranked for almost the entirety of the season.
"Just focus on TCU, come in and practice and listen to what the coaches have to say and execute," junior forward Esa Ahmad said.
Former Pittsburgh head coach Jamie Dixon has transformed his alma mater in his two seasons atop the program leading them to a 38-20 mark. Like his teams in the Big East, the Horned Frogs pride themselves on tough defense and rebounding the basketball.
"We know they play hard," senior guard Jevon Carter said.
TCU will be without Jaylen Fisher, who will miss the remainder of the season after knee surgery. The sophomore averaged 12.3 points per game prior to being sidelined. Without Fisher, the Horned Frogs still have four players that average in double-figures led by senior forward Vladimir Brodziansky at 15.4 points per game and senior guard Kenrich Williams at 14.7 points per contest.
While the two teams have had several close contests since joining the league together in 2012, West Virginia is a perfect 11-0 against TCU all-time.
Because of the quick turnaround from Saturday to Monday, West Virginia will practice and do a run through on the Horned Frogs Sunday, a mix of both mental and physical aspects. Focus on the task at hand will be the key of being prepared to meet the challenge of a road game in this league.
Saturday to Monday turnarounds aren't uncommon in college basketball as TCU is doing the same thing after falling 73-68 at Kansas State over the weekend.
"It's kind of tiresome but you've got to push through it," sophomore guard James Bolden said.
There are no easy games in the Big 12 Conference, but on the bright side Huggins should find getting into the arena a little less difficult Monday night.